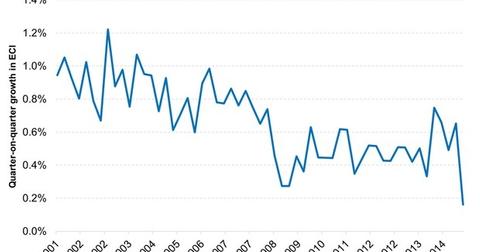 Why the ECI Number Was Weak in 2Q15
By Rick Rieder

Aug. 10 2015, Published 1:37 p.m. ET
Rick Rieder explains why US wage growth numbers are more nuanced than they may first appear.
Those skeptical of the US recovery often cite fairly meager wage growth as evidence. Indeed, last week, the government released the weakest Employment Cost Index (or ECI) number since 1982.
However, wage growth numbers are more nuanced than they may first appear. A close look at them reveals yet another sign that the US recovery remains uninspiring but still, from a global perspective, more solid than many believe.
Article continues below advertisement
While the latest ECI was certainly disappointing, the weakness partly stemmed from naturally volatile incentive-based compensation, with much of the weakness in the "sales and offices jobs" category. When you exclude that data, you get a much more positive picture of wage growth, with the latest reading showing only a modest slowdown in growth.
Market Realist – The ECI number was weak in the second quarter.
The Bureau of Labor Statistics prepares the US Employment Cost Index quarterly. It mirrors the changes in the costs of labor for businesses in the United States (SPY) (IVV). While the CPI (consumer price index) is a measure of inflation in consumer prices, the ECI gives an indication of whether employment costs are rising or falling by measuring wage inflation.
The ECI grew at 0.2% in 2Q15, which is the lowest quarterly growth in 33 years. It grew by 0.7% in the first quarter. Wage inflation is critical from an economic point of view. Wage inflation leads to higher disposable income, which in turn leads to higher consumption. An improvement in wage growth could support consumer-related sectors like the consumer discretionary (XLY) sector, the consumer staples (XLP) sector, and the retail (XRT) sector.
As the graph above shows, the wage dip in sales and office jobs was the main reason for the sharp deceleration in the ECI number for the second quarter. All other occupations saw positive gains in wages.