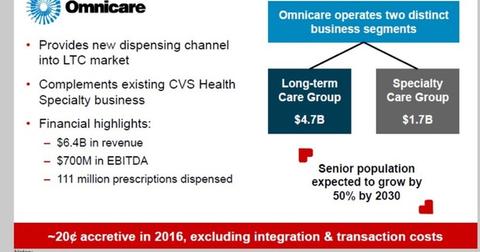 CVS Eyes Specialty Pharmacy Opportunity through Acquisitions
By Phalguni Soni

Updated
Quarterly updates
The first quarter of 2015 was an eventful one for CVS Health (CVS). It has also made a couple of high-profile acquisition announcements. In May 2015, CVS signed a definitive agreement to acquire Omnicare (OCR), a long-term care pharmacy services provider, for $98 per share in an all-cash deal. The total enterprise valuation for the deal is ~$12.7 billion, including debt of ~$2.3 billion.
Article continues below advertisement
Omnicare accretion
Omnicare provides pharmacy services to long-term care and assisted living facilities. It also operates in the specialty pharmacy business. The acquisition is expected to increase CVS's pharmacy distribution to encompass a larger geriatric and chronic care population.
Specialty pharmacy business
Specialty drugs are a key growth driver for CVS. CVS is the largest specialty pharmacy in the United States. Specialty sales came in at $31 billion in 2014 and are expected to rise to $37 billion this year. In contrast, Diplomat Pharmacy (DPLO), which operates in the specialty pharmacy business, earned revenue of $2.2 billion in the trailing 12 months.
The Omnicare transaction would increase 2016 earnings per share (or EPS) by $0.20 before considering the impact of transaction and integration costs associated with the purchase.
Target's pharmacies
CVS also signed a definitive agreement to acquire Target's (TGT) pharmacies business for ~$1.9 billion. You can read about the proposed purchase and its implications in our series Why Target's Pharmacies Sale to CVS is an Industry Game-Changer
Although the Target and Omnicare purchases are unlikely to affect results for 2Q15, they'll have an impact on 2015 EPS. CVS has announced that it's cutting back on share repurchases from $6 billion to $5 billion in 2015. We'll look at the EPS impact in the next part of this series.
These purchases still need regulatory approval. They're likely to influence some of the company's capitalization decisions in the short to medium term. For more on the capitalization impact, read our article How Proposed Acquisitions Impact CVS' Growth and Capitalization.
CVS and Target together constitute 0.9% of the portfolio holdings of the iShares Core S&P 500 ETF (IVV).