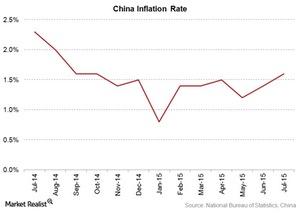 China's Inflation Rate Rose to 1.6% in July, FXI up 2.25%
By Surbhi Jain

Updated
China's stock market up on positive indicator news
The China-tracking iShares China Large-Cap (FXI) was up 2.25%, while the Deutsche X-trackers Harvest CSI300 CHN A (ASHR) gained 5.84% on August 10's close as economic indicators brought some good news for China. The National Bureau of Statistics came out with inflation figures for July.
Article continues below advertisement
July saw China's stock market crash
July saw China's stock market crash. FXI is down from its above-$50 levels in May to around $40 currently. The ADRs (American Depository Receipts) of Chinese companies 58.com (WUBA), China Mobile (CHL), E-Commerce China Dangdang (DANG), 58.com (WUBA), Baidu (BIDU), and Alibaba (BABA) have all followed the upsurge and the crash with the broad market. Read Are You Riding China's Stock Market Roller Coaster? for more background.
Nonetheless, Chinese ADRs (American depository receipts) like Alibaba Group Holding (BABA) and China Mobile (CHL) were up on positive inflation news from China. BABA gained 2.09% while CHL was up 1.63% on August 10.
Inflation rose to 1.6% in July
In an attempt to challenge the economic slowdown, consequently pumping up inflation, the Central Bank has been cutting its key interest rate. On June 28, the PBC (People's Bank of China) had cut its one-year benchmark loan interest rate and deposit rate by 25 bps (basis points) in its fourth consecutive rate cut since November 2014. Consequently, the lending rate stands at 4.85% while the deposit rate is 2%. The PBC has been trying to spur economic growth in the country by lowering interest rates in an attempt to spur borrowing and investments.
As a result, the Republic of China (ASHR) recorded a rise in consumer prices in July. The inflation rate was 1.40% in June. It rose to 1.60% in July, according to figures released by the National Bureau of Statistics in China.
On August 10, the PBC cut its guidance on the yuan, following trade balance figures that came out the previous day.