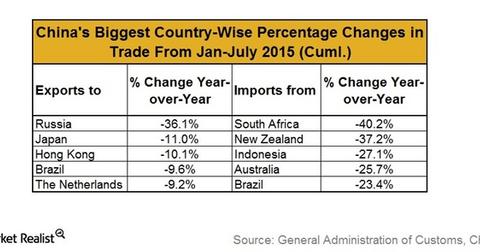 China's Balance of Trade: Can't Push Exports? Cut Imports
By David Ashworth

Updated
Balance of trade
In a sluggish global economy, China has been trying hard to maintain a positive balance of trade, in which its total exports are greater than its total imports. Net exports are added to the economic output of a nation. Hence, a favorable balance of trade increases economic output and vice versa.
This can be seen by looking at China's trade data and the changes that it has undergone. In 2014, China's exports had risen 6.1% from the previous year, while its imports had risen only 0.4%. From January to July 2015, China's exports fell 0.8% from the same period in 2014, while it reduced its imports by 14.6%. This sharp decline in total imports led China's balance of trade for January–July 2015 to rise by 102.7% from a year ago. This would go a long way toward supporting its economy.
The above table illustrates the situation from January to July 2015. It represents the biggest percentage-wise changes in exports and imports in this period compared to the same period a year ago. A drop in exports hurts China while a drop in imports by China hurts the trade partner.
Article continues below advertisement
Exports and imports
With a few exceptions, the countries listed in the above table are not the biggest trading partners of China. Let's take a look at how trade with China's biggest exporting destinations panned out from January to July 2015.
Fortunately for China, exports to the US—its biggest export destination—rose 7.3% from January to July 2015 from a year ago. However, much of that boost was negated by a fall in exports to the EU (European Union) and Hong Kong, which are its second- and third-largest export destinations. Exports to these regions fell 4.3% and 10.1%, respectively.
As a result, China reduced its imports from the EU by 12.3% in January to July 2015 from the same period a year ago. China gets most of its imports from the EU. Imports from South Korea declined by 7.2% in this period, and imports from the US declined by 7.4%.
To maintain—and possibly boost—its balance of trade, China devalued the yuan, which led to a fall in Chinese equities (FXI) (MCHI). It also led to a fall in stocks like Qihoo 360 Technology (QIHU), NetEase (NTES), Baidu (BIDU), and SINA Corporation (SINA).
What about the impact on Asian nations with close business ties to China? Let's start by looking at the impact on Hong Kong equities.