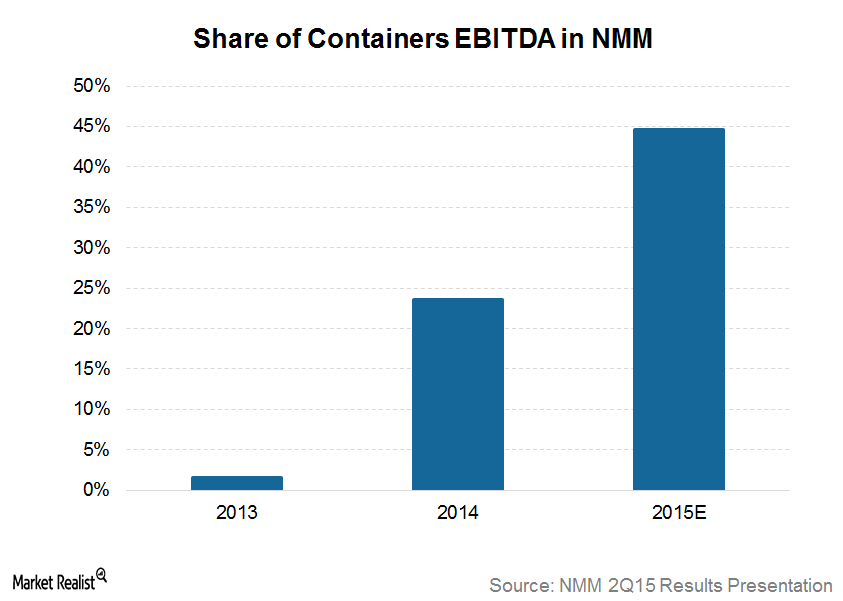 Can Navios Partners' Container Segment Offset a Dry Bulk Decline?
By Anuradha Garg

Aug. 27 2015, Updated 1:03 p.m. ET
Foray into container sector
As a limited partnership, Navios Maritime Partners (NMM) tries to keep its distributions stable. Its ability to pay distributions came under increased pressure when the dry bulk shipping industry suffered due to weak demand growth for commodities in China.
In a bid to provide regular distributions to its unitholders, NMM started acquiring container vessels in December 2013. NMM's management expects the container trade to continue growing. The European Union and the United States' (SPY)(IVV) import growth highly correlates to GDP (or gross domestic product) growth, which is projected to grow by 1.5% and 2.5%, respectively, for 2015 according to the International Monetary Fund.
Article continues below advertisement
No recharter risk in short-to-medium term
The container segment currently represents about 45% of the company's 2015 EBITDA (earnings before interest, tax, depreciation, and amortization). The average charter duration of an entire fleet is 3.3 years. For container vessels, it's close to eight years. There are no recharter risks in this segment since the expiration dates are staggered and the charter durations extend to 2027.
Exposure to dry bulks: Still a risk
NMM has strategically diversified into container ships, but the dry bulk market is still a significant part of the company. 55% of its 2015 EBITDA is still expected to come from the dry bulk segment, and as we'll see later in the series, many of its contracts are coming off their charters in the next 12 months. The contract rollovers into the weak market could provide strong headwinds going forward for the company.
If a quick turnaround doesn't happen in the dry bulk market, Navios Maritime Partners (NMM) is likely to struggle until 2016. After that, it might have to decrease its distributions. Weakness in the dry bulk market (SEA) is also likely to negatively affect dry bulk companies like Safe Bulkers (SB), DryShips (DRYS), and Diana Shipping (DSX).