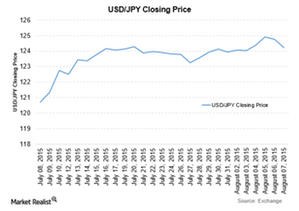 Bank of Japan Maintains Ultra Eased Monetary Policy
By David Meyer

Aug. 11 2015, Updated 1:41 p.m. ET
Bank of Japan keeps rates unchanged at 0.1%
The Japanese yen ended Friday at a stronger note against the US dollar. Bank of Japan governor Haruhiko Kuroda kept the rates unchanged at 0.1% in the monetary policy statement announced on Friday. The central bank chief maintained that the inflation target of 2% might be delayed if low oil prices persist around the globe. The Bank of Japan maintained its stimulus program of purchasing 80 trillion yen assets annually.
Article continues below advertisement
Leading index of Japan beats forecasts
The dollar–yen pair has been trading in a range with an upward bias due to divergent monetary policies between the United States and Japan.
On one hand, the progress of the labor markets and inflation is in line with the possibility of a rate hike by the US Federal Reserve in the near term, possibly as soon as December. On the other hand, Japan is carrying forward its quantitative easing program and keeping interest rates low to provide an upward thrust to the low inflation levels.
Looking at the macro indicators this week, the leading index of Japan, an indicator of future economic activity reached 107.2 in June, its highest level in the last 16 months and beating estimates. Correspondingly, the current economic activity is measured by the coincident index, which rose to 112.0 in June.
Impact on market
The WisdomTree Japan Hedged Equity ETF (DXJ) closed in the green at 0.21% after dropping in the previous session. The iShares Currency Hedged MSCI Japan ETF (HEWJ) was almost flat, with a slight downward move of 0.03%.
There was a high positive bias in Japanese ADRs (American depository receipts) trading on US exchanges. Leisure goods maker Sony (SNE) was trading higher by 1.02%. In the banking arena, Sumitomo Mitsui Financial Group (SMFG) and Mitsubishi UFJ Financial Group (MTU) both were trading reasonably higher by 1.45% and 0.98%.