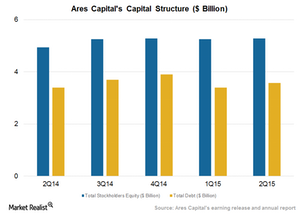 Ares Capital Stock Benefits from a Strong Balance Sheet
By Robert Karr

Updated
Strong balance sheet
Ares Capital's (ARCC) net DE (debt-to-equity) ratio improved marginally to 0.62x as of June 30, 2015, yet fell short of the 0.65x to 0.75x target set by the management. The improvement was mainly due to debt repayment during the second quarter.
The company is focusing on the right-hand side of its balance sheet. It wants to lower the cost of debt capital and maintain a prudent maturity level for its debt and diverse sources of capital.
Ares Capital's DE ratio stood at 0.68x as of June 30, 2015, below that of its peers in the investment management industry.
Article continues below advertisement
Increasing debt options
Ares Capital had cash, revolving lines of credit, and small business administration, or SBA, debentures of $2.4 billion for investments as of June 30, 2015. The company had approximately $5.8 billion in committed debt capital consisting of $3.5 billion in aggregated principal outstanding debt, $2.2 billion in committed revolving credit facilities, and $75 million in committed SBA debentures.
The company reduced its weighted average stated interest rate on drawn debt capital to 5%, down from 5.2% in the previous quarter. The cost could fall to 3.9% if the company were to borrow everything available to it under revolving credit facilities.
Here's the return on equity among its peers:
Together, these companies form 0.03% of the SPDR S&P 500 ETF Trust (SPY).