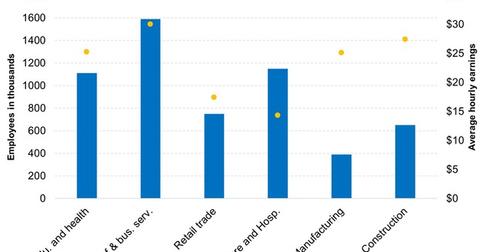 Another Reason Why Wage Growth Is Low: Industry Mix Shift
By Rick Rieder

Updated
Moreover, there is a significant industry mix shift taking place in the economy, whereby some industries are adding jobs much more rapidly than others, so looking just at gross average wages can end up providing a misleading picture. For example, the leisure and hospitality sector has added more jobs since 2012 than the manufacturing and construction sectors combined, despite being a smaller part of the economy. Yet since the manufacturing and construction sectors pay nearly double these service sectors, the overall average wage level has appeared subdued due to the shift, as the figure below shows.
Article continues below advertisement
Market Realist – Why wage growth is low despite robust job numbers.
The graph above shows the jobs added since 2012 in some sectors, along with their average hourly earnings. Both retail (XRT) trade and leisure and hospitality have lower earnings than both manufacturing (XLI) (DIA) and construction (IYR). Their respective average hourly earnings are $17.40, $14.30, $25.10, and $27.40. However, since 2012, both retail and leisure and hospitality have added around 1.9 million jobs, compared with ~1 million jobs added by manufacturing and construction during the same period.
This tilt, with more jobs being added in the lower-paying sectors of the economy, is also responsible for the muted wage growth over the last few years. However, professional and business services have added close to 1.6 million jobs since 2012, with annual hourly earnings of $30.
Low wage growth not the only reason for muted consumption
However, consumption was driven by a major debt binge in the six decades prior to the financial crisis. Since the financial crisis, this trend has come to an end. This has been an even bigger headwind for consumption in the economy, more so than lower wage growth.
A rise in wage growth may not be enough to negate the effect of debtless consumption. Although lower oil (USO) prices were expected to be a tailwind for consumption, households have used this windfall to service debt. The silver lining is that these households are improving their balance sheets by reducing debt.