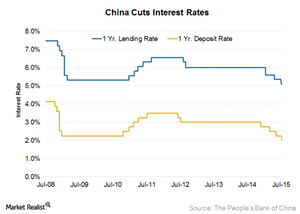 Will China's Easing Measures Save the Day for Iron Ore Miners?
Interest rate cuts
On June 27, China's (FXI) central bank announced it would cut interest rates. This is the fourth interest rate cut announced by the Chinese central bank since November 2014. It had previously cut interest rates on November 22, March 1, and May 11.
The interest rate on a one-year loan by commercial banks was cut by 25 basis points to 4.85%, while the interest rate on one-year deposit was lowered by 25 basis points to 2.0%.
Article continues below advertisement
Other easing measures
This time, the central bank not only resorted to cutting the interest rates, it also lowered the deposit–reserve ratio for some banks that lend to small businesses and agriculture-related businesses. This is expected to support the growth in small businesses.
Slowdown triggered easing
The recent turmoil in the Chinese equity markets must have propelled the central bank toward introducing further easing measures. The overall slowdown in the economy, including low infrastructure and construction spending, are the other likely reasons triggering the rate cuts.
Although China has resorted to aggressive monetary easing, economic activity is still languishing in the country. There is always a lag time before central bank actions are reflected in the real economy, and we'll have to wait to see if China's economic activity rises.
For now, mining companies like Rio Tinto (RIO), BHP Billiton (BHP) (BLT), Vale SA (VALE), and Cliffs Natural Resources (CLF) are reeling under the impact of the Chinese slowdown.
In the next few parts of this series, we'll see how the credit growth in the Chinese economy progressed in June.