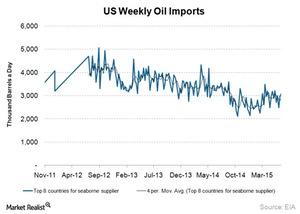 US Seaborne Oil Imports Rose for 2 Consecutive Weeks
By Sue Goodridge

Updated
US seaborne oil imports    
The US imports crude oil through pipelines, rails, and water. The water transport affects the crude oil industry. The most seaborne imports take place from Saudi Arabia. Higher imports of crude oil by ships increases the demand for crude tankers, assuming other things are equal. This has a positive impact on the crude tanker industry. Looking at the data for the past few years, US seaborne oil imports are on a falling trend.
Article continues below advertisement
According to EIA (U.S. Energy Information Administration) data, seaborne crude oil imports for the week ending July 3, 2015, were 3.09 MMbpd (million barrels per day). This was a rise of 127,000 bpd (barrels per day) from the previous week. The last four-week average as of July 3, 2015, was 2.83 MMbpd. That's almost 15% lower compared to same period last year.
US imports rise despite high production
A rise in domestic production will result, all else being equal, in less US crude oil imports. A fall in imports reduces the demand for tankers. It has a negative impact on the crude tanker industry.
There are different types of crude oil ranging from light crude oil to heavy. The US mainly produces light crude oil. Over the years, light crude oil imports have fallen and have almost been eliminated. The country still imports the medium and heavy crude oil. Currently, there's a mismatch between the type of crude oil produced in the US and the country's existing refinery capacity.
Over the years, crude oil imports have fallen due to higher domestic productions. However, the US is still forced to import crude oil until new refineries are set or existing ones are suited for light crude oil. Along with US seaborne oil imports, investors should also keep a close watch on other regions' seaborne imports.
OPEC (Organization of the Petroleum Exporting Countries) hasn't cut down its production despite falling oil prices. Since US imports have fallen, West Africa now exports the oil to Asian countries. The route from West Africa to Asia is longer compared to the US. This has increased tankers' ton-mile demand.
A rise in tankers' ton-mile demand benefits companies like Frontline (FRO), Euronav (EURN), Nordic American Tanker (NAT), Teekay Tankers (TNK), DHT Holdings (DHT), and Tsakos Energy Navigation (TNP). In contrast, higher production benefits the PoweShares DB Oil Fund ETF (DBO).