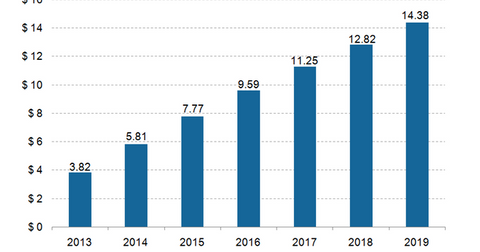 Twitter to Expand Video Ads for App Installs
By Matilda James

Updated
Changes to app install ads
Twitter (TWTR) plans to extend its autoplay video feature to application install ads. The objective is to draw positive results from its app install ads unit, which underperformed in 1Q15 according to Twitter management. Twitter expects the new autoplay video to boost conversions for developers and in turn improve advertising revenue.
Facebook (FB) introduced video app install ads in December 2014 and extended the ads to the desktop version in 1Q15. This clearly indicates the capability of videos to help convert ads into installs.
On June 16, Twitter launched its autoplay videos. The videos play automatically on a user's timeline, but the videos are muted as the user scrolls down the timeline.
Twitter users can view video ads in full screen by clicking on them. Users have the option to revert to the old click-to-play feature in times of low bandwidth or high data rates. This feature is particularly useful for users in emerging markets (EEM) where Internet bandwidth speeds are low.
Article continues below advertisement
The initiative is no surprise
According to a report from eMarketer and as the above graph shows, the US online video advertising market is estimated at $7.7 billion this year. This market is expected to reach $14.38 billion by 2019, growing at a rate of around 17% each year. Twitter aims to leverage this lucrative market and attract more users to watch videos on its platform.
Twitter isn't the first choice of advertisers due to the huge popularity of Facebook and Google's (GOOGL) YouTube. Both credit their dominance in the video advertising market to the number of users who utilize their platforms. Twitter's new autoplay video ads thus seem to be a major revenue opportunity for the company.
Google and Facebook use their own software to measure viewability, which has stopped some advertisers from buying view ads. Unilever (UN) is one of the advertisers that quit Facebook due to the lack of third-party verification. Twitter, however, will deploy third-party verification so advertisers know if the content is reaching the right audience.