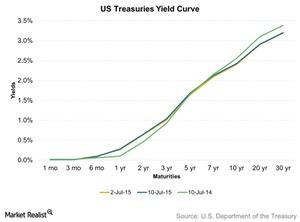 Treasury Yields Rise as the Situations in Greece and China Improve
By Lynn Noah

Dec. 4 2020, Updated 10:53 a.m. ET
Secondary market
Treasury yields rose marginally across the yield curve in the week ended July 10, 2015. The demand for safe-heaven securities dropped due to the expectation of a Greece deal, stabilization of the Chinese stock market, and the flooding of investment-grade bond issues.
The yield on the benchmark ten-year Treasury note rose by 2 basis points week-over-week to 2.42%.
Article continues below advertisement
Final countdown ends for Greece
As a part of its third rescue package, Greece will receive 86 billion euros or $95.5 billion over three years. In exchange, it will be closely monitored by its creditors—the European Union (or EU), the European Central Bank (or ECB), and the International Monetary Fund (or IMF). The deal's striking feature is the transfer of valuable Greek assets worth 50 billion euros to an independent fund, which will be privatized over time and its proceeds be used to repay the debt. The fund will be jointly managed by Greek authorities and relevant European institutions.
Greece has already received two bailouts, totaling 240 billion euros, since 2010.
On Friday, ahead of the deal, shares of National Bank of Greece S.A. (NBG), Deutsche Bank (DB), and Barclays (BCS) gained 11.0%, 5.8%, and 4.4%, respectively.
Recovery in the Chinese Stock market
China's stock market recovered from the turmoil, losing almost $3.2 trillion in three weeks, after the government introduced emergency measures including an interest rate cut, the suspension of initial public offers, and the enlistment of brokerages to buy stocks backed by cash from the central bank. The stock market recovered for a second consecutive day on Friday, with the benchmark Shanghai Composite Index surging 4.54% to end at 3,877.8 points.
Article continues below advertisement
The Fed is cautious about a rate hike
Federal Reserve Chair Janet Yellen told a local business group in Cleveland, Ohio, that she expects it will be "appropriate at some point this year" for a rate increase, even as she remained worried about the labor market.
Investment impact
Rising Treasury yields had a somewhat negative impact on bond mutual funds.
The American Century Ginnie Mae A (BGNAX) fund provided weekly returns of 0.11% and year-to-date returns of 0.04%. Weekly returns for the T. Rowe Price GNMA (PRGMX) fund stood at 0.03%, while its year-to-date return came in at 0.24%.
A host of Treasury auctions took place last week. We'll look at each of them in detail, starting with the auction of 30-year Treasury bonds.