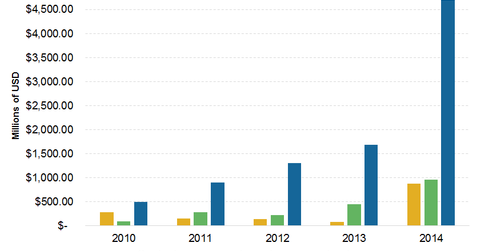 SunEdison's Balance Sheet: Assets and Capital Expenditures
By Saania Malik

Updated
Major assets
The largest proportion of SunEdison's assets is made up of property, plant, and equipment (or PP&E), which consists of software, buildings and improvements, machinery and equipment, and solar energy systems. In 2014, gross PP&E made up about 73% of total assets, almost 80% of which was composed of solar energy systems.
Solar energy systems classified as "in service" or "under construction" come under property, plant, and equipment. Compared with 2013, the number of solar energy systems in service and solar energy systems under construction both increased over 100% to $956 million and $4,709 million, respectively.
Article continues below advertisement
This rapid increase aligns with the company's strategy to retain systems on its balance sheet and to feed assets to its yieldco, TerraForm (TERP). Non-solar energy systems under construction grew over 1000% year-over-year in 2014, from $79 million to $874 million. This mainly included a new polysilicon manufacturing facility in South Korea.
The sustainability of this growth and cost control in the future will define the company's ability to grow and remain competitive.
Capital expenditures
With the strategy of retaining solar energy projects on its balance sheet, as well as the strategy to expand production capabilities of its semiconductor segment, SunEdison had capital expenditures (or capex) of $94.4 million in 2013. Capex for the Solar Energy segment was $1,586.6 million, compared with under $500 million in 2013.
Along with the positive trends in growth of its asset base, the company has become highly leveraged. Read on to the next part of the series for more about SunEdison's debt profile and liquidity.