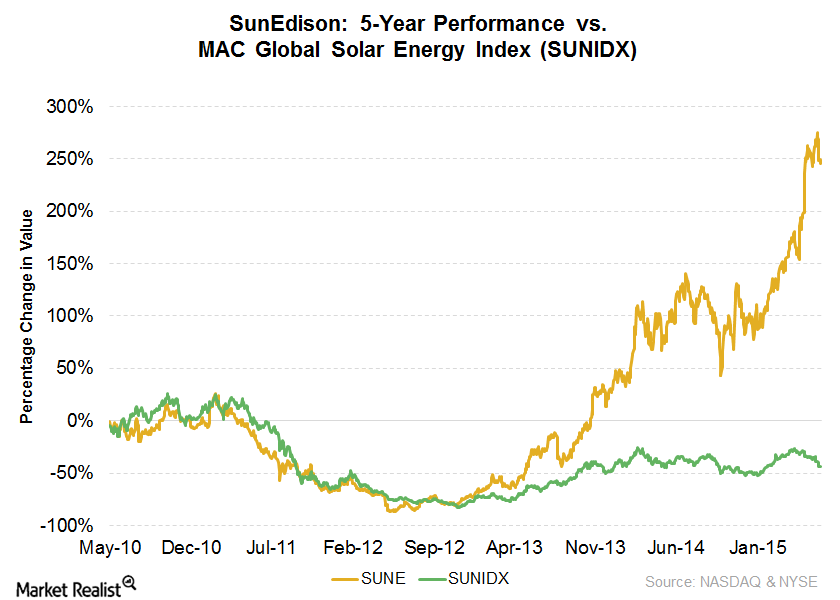 SunEdison: Risks and Potential for Performance Improvement
By Saania Malik

Dec. 4 2020, Updated 10:53 a.m. ET
Risks
Due to the large number of products and services provided, SunEdison (SUNE) faces competition from various companies operating throughout the solar value chain, from polysilicon suppliers to construction companies. Because yieldcos are a relatively new form of entities, their long-term risks are unknown, posing an inherent risk to the company's business model.
With negative earnings and high leverage, SunEdison faces the challenge of attaining sustainable growth in earnings, as well as managing its indebtedness. Despite these challenges, the company's stock price has gained over 600% since 2012. Since mid-2010, SunEdison has climbed almost 250% in value, whereas the MAC Global Solar Energy Index has fallen 44% in value. So what is driving this growth?
Article continues below advertisement
Potential for turnaround
SunEdison (SUNE) has a strong asset base within all its segments, and it has acquired multiple companies in each segment. While earnings are still not positive, the company is expanding its expertise and global reach at a faster scale than its competitors.
Its yieldco TerraForm Power (TERP) paid a dividend of $1.08 per share in 2014, whereas the 2015 dividend is expected to be $1.30 per share. TerraForm's portfolio of assets has an asset age of less than two years for almost 70% of assets, where the average life is 30 years. The company also has plans to launch another yieldco, the Emerging Markets Yieldco.
SunEdison also provides its customers with an incentive to stay by providing key peripheral benefits. Its power purchase agreements allow utilities to fulfill their renewable energy production requirement without being concerned with construction and transmission costs of setting up solar facilities. The prices the company charges also take into account tax incentives, which utilities don't qualify for. This may aid in customer retention going forward.
Room for growth
As solar power grows its share of global energy usage, one-third of all electric generation capacity added in 2014 coming from solar power. Solar energy is estimated to fuel more than 10% of global electricity generation, from less than 1% today. The industry is currently facing increasing demand, and SunEdison's expanding capabilities across the solar value chain may allow it to achieve high performance in the coming years.