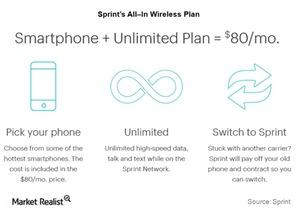 Sprint Launches All-In Wireless Plan at the End of June
By Ray Sheffer

Updated
Sprint All-In Wireless plan
Sprint (S) recently launched its All-In Wireless plan. Sprint CEO Marcelo Claure discussed the plan on June 30, 2015, noting, "We are telling customers, 'This is your All-In price.' So when they walk into our store or visit our website, they will see that $80 includes a smartphone and an unlimited plan to do the most important things they are going to do with the phone for an entire month: make calls, watch videos, listen to music, text a friend—you name it."
Article continues below advertisement
As the name suggests, the pricing of Sprint's All-In Wireless plan includes monthly phone lease payments and subscription charges for unlimited voice, data, and text services on the home network. In the $80 per month (before taxes) plan, $60 is for the service subscription, and $20 is the lowest lease rental for a smartphone.
Currently, the wireless carrier is offering several phones: the Samsung Galaxy S6, the Apple (AAPL) iPhone 6, and the HTC One M9 in the All-In plan. The phone lease is for 24 months, and the activation fee for the plan is $36 for each line.
Streaming video speed cap gone from All-In Wireless plan
Initially, Sprint had included a speed limit in its plan for video streaming. The customers could stream videos on the plan within the speed limit of 600 Kbps. Sprint is the third largest US wireless carrier by subscribers, and it had to remove this speed limit for plan customers on the same day it launched the All-In Wireless plan. According to the company, it removed this speed restriction to alleviate any customer concerns.
You can take a diversified exposure to Sprint by investing in the iShares US Telecommunications ETF (IYZ). IYZ held ~4.4% in the wireless carrier on June 30, 2015. For a diversified exposure to Sprint, you may also consider investing in the iShares Russell 1000 Value ETF (IWD), which held ~0.03% in Sprint on the same date.
In the next part of this series, we will look at a new device lease offered by T-Mobile (TMUS).