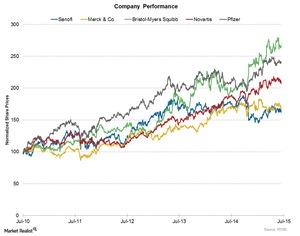 Sanofi: The Second Largest European Pharmaceutical Group in 2014
By Mike Benson

Updated
Company overview
Sanofi (SNY) is the fourth largest pharmaceutical group worldwide and the second largest in Europe in terms of sales for 2014, as per IMS data. Sanofi is headquartered in Paris, and thus reports its financial results in euros. The principal US subsidiary is located in Bridgewater, New Jersey. Sanofi is focused on patient needs and is engaged in the research, development, manufacturing, and marketing of healthcare products. Sanofi is the parent company of a group of companies organized around three activities:
pharmaceuticals via Sanofi
human vaccines via Sanofi Pasteur
animal health via Merial
Article continues below advertisement
Share price performance
The graph shows share price performance of Sanofi (SNY) against its peers. On an annualized basis, Sanofi has delivered returns of 11.5% from July 2010 to June 2015, which is higher than some of its peers like Merck and Co. (MRK), Bristol-Myers Squibb (BMY), Novartis (NVS), Eli Lilly (LLY), and Pfizer (PFE), delivering an annual return of 11.2%, 22.2%, 15.6%, 17.9%, and 19%, respectively. The annualized return for the Health Care Select Sector SPDR ETF (XLV) during the same period was 22.1%.
History
Sanofi's roots go back over a hundred years. The two principal legacy companies that merged in 2004 to form Sanofi are Sanofi-Synthelabo and Aventis.
Sanofi-Synthelabo was formed in 1999 by merging Sanofi, founded in 1973, with Synthelabo, founded in 1970. Aventis was also formed in 1999 by the combination of Rhone-Poulenc, founded in 1928, and Hoechst, founded in 1863.
Today, the company has a presence in over 100 countries worldwide with more than 113,000 employees throughout the world. The industrial production is carried out at 107 sites across 40 countries, including 37 sites in emerging markets.
The average rate of the US dollar per euro was 1.29 in 2012, 1.33 in 2013, and 1.32 in 2014. These conversion rates have been used in this entire series on Sanofi.