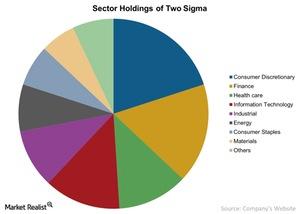 How Does Two Sigma Make Investment Decisions?
By Ivan Kading

Updated
Two Sigma analyzes big data
Two Sigma is another quantitative fund management firm that utilizes algorithm models for making investment decisions. Two Sigma's disciplined, data-driven approach to investment management facilitates intelligent trading decisions that seek to generate real alpha while effectively managing risk. Two Sigma uses the expertise of its employees to develop a model that statistically fits its investment style. It sees technology as a profit center, not merely a cost item that is an important driving force behind the company's structure.
Article continues below advertisement
Belief in consumer discretionary
Two Sigma has invested 20% of its assets in the consumer discretionary sector, as the sector has been performing well over the past few quarters. The fund's belief in this sector is so strong that it is continuously increasing its holdings in different companies in the sector like Apple (AAPL) and Johnson and Johnson (JNJ). Two Sigma currently has $24.25 billion in assets under management. The fund's top ten securities represent 8.12% of the entire portfolio.
Two Sigma's model has significantly increased its weight in the SPDR S&P 500 ETF Index Depositary Receipts (SPY), as it has fallen a great deal and is close to its support. The model has completely removed Covidien (COV) from the portfolio, as it delisted from the exchange. Allergan (AGN) is the firm's other top sell. An important point to note is that Two Sigma's turnover ratio is 63.85%, which shows how aggressive its quantitative model is.
An aggressive technology user
Two Sigma is a pioneer when it comes to getting the most out of technology from an investment perspective. Two Sigma's investors include some of the world's largest corporate and public pension planners, sovereign wealth funds, research institutions, educational endowments, hospitals, healthcare systems, and foundations.