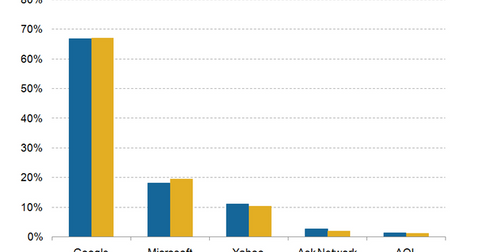 Microsoft Deal with AOL a Missed Opportunity for Yahoo!
By Matilda James

Updated
Yahoo! attempted a similar deal with Microsoft
Lara O'Reilly from Business Insider picked up on a recent comment on LinkedIn from Ross Levinsohn, Yahoo!'s (YHOO) former interim CEO. Levinsohn said that Yahoo! once tried to strike an advertising deal with Microsoft (MSFT) similar to the new deal between AOL (AOL) and Microsoft that we touched on previously in this series. This was three years ago. But the deal never materialized.
Levinsohn said, "Had we combined Yahoo inventory with MSFT inventory, it would have had significant impact on the market. Unfortunately, Yahoo went another direction and now three years later, Tim and Bom pull off a good deal."
Article continues below advertisement
AOL's gain
For sure, direct access to lucrative advertising platforms from Microsoft is AOL's (AOL) gain and Yahoo!'s loss. Under Levinsohn's leadership, Yahoo! had plans to separate itself completely from the web search space and in return, would have used Microsoft's Bing. However, the deal didn't move ahead and Levinsohn quit Yahoo!
Early this year, Yahoo! and Microsoft announced changes to their search partnership deal. The intent was to challenge Google's (GOOG) dominance in the search market, which is shown in the above chart. Yahoo! needs to enhance its core search engine to compete with Google. And amending its agreement with Microsoft is one way to do it.
Yahoo!'s current CEO, Marissa Mayer, ruled out any plans of buying AOL when she devalued AOL's strategy and dependence on programmatic advertising at Fortune's Most Powerful Women event in May this year. For more on programmatic ads, read Google Bullish About Its Programmatic Ad Business.
Investors who want to gain access to the technology sector could consider the iShares U.S. Technology ETF (IYW). Google, Microsoft, and Yahoo! together account for 40% of IYW's portfolio.