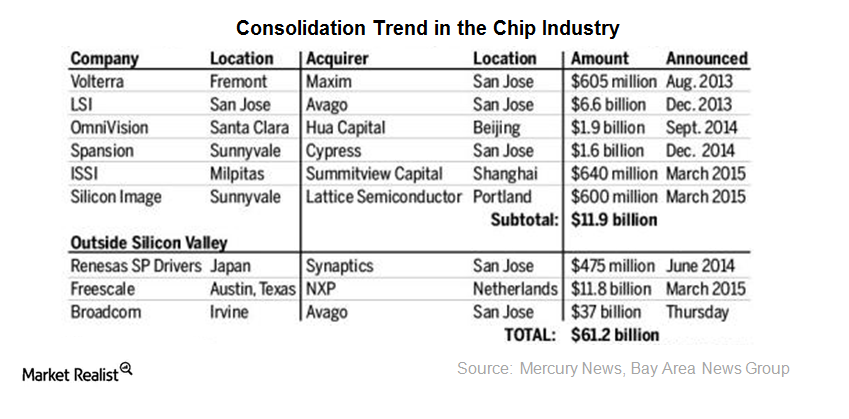 Micron Boosts the Consolidation Wave in the Semiconductor Space
By Anne Shields

Nov. 20 2020, Updated 2:18 p.m. ET
Consolidation in the semiconductor space
Previously in this series, we discussed Tsinghua Group's offer of $23 billion to acquire Micron Technology (MU). If Micron's buyout finally happens, it would be the latest among many acquisitions that have happened lately in the chip space. Rising costs and shrinkage in the customer base have forced the chip manufacturers to go for mergers or be acquired to achieve economies of scale.
Article continues below advertisement
Mark Hung, a Gartner analyst, explains that today it costs ~$100 million to produce a competitive leading-edge chip. He stated, "It's very different from a decade ago, when you could get a viable chip done with $10 million to 30 million dollars."
M&A (mergers and acquisitions) and collaborations are a great way to share the rising technology costs required to stay competitive. The SMAC (social, mobile, analytics, and cloud) revolution, combined with IoT (Internet of Things) and the growing popularity of connected devices, has contributed to the consolidation in the semiconductor space. Gartner expects that the IoT market could grow from an installed base of 0.9 billion in 2009 to 26 billion by 2020—an rise of 30x. According to Cisco's estimates, 50 billion devices are expected to be connected by 2020.
Please read The semiconductor market: Some of the challenges explained to learn more.
Semiconductor industry is consolidating
The semiconductor industry is going through a slowdown. Dollar appreciation (UUP) against other major currencies and a fall in the PC market are the reasons for the slowdown. The main reason for the rise in M&A and consolidation in this space is that the players are finding it difficult to sustain and fund growth. Companies have to achieve greater scale to compete on a cost basis. According to Mike Wyatt, Morgan Stanley's head of Global Technology M&A, "The semiconductor market is a huge market." He further said, "You really have to be a big player to compete effectively."
To date, the recent acquisition is Intel's (INTC) acquisition of Altera for about $16.7 billion in cash. Before that, Avago Technologies (AVGO) announced the Broadcom (BRCM) acquisition for a $37 billion cash and stock deal on May 28, 2015. Avago's acquisition of Broadcom represents another consolidation in the semiconductor industry. Avago has been a very acquisitive buyer in the semiconductor space. It's going along with the strategy of growth through acquisitions. In March, Freescale Semiconductor (FSL) acquired NXP Semiconductors (NXPI) for a valuation of $11.8 billion.