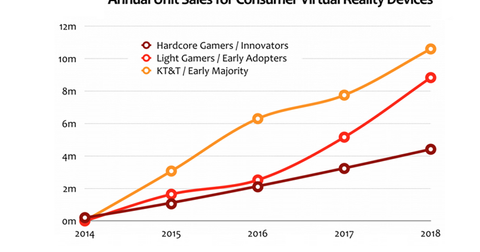 Major Players Eyeing Augmented and Virtual Reality Space
By Anne Shields

Updated
Sony's Morpheus handset and Oculus Rift to be launched at the same time
In the previous part of this series, we discovered that Microsoft (MSFT) and Facebook's (FB) Oculus VR have joined forces to more deeply explore the virtual reality, or VR, and augmented reality, or AR, space. The commercial launch of the Oculus Rift headset is expected in fiscal Q1 2016. Around the same time, Sony (SNE) plans to launch Morpheus, its gaming-focused VR headset.
In the gaming space, Microsoft's Xbox One competes closely with Sony's PlayStation 4. By partnering with Facebook's Oculus VR, Microsoft is trying to strengthen its position in the VR and gaming space.
Article continues below advertisement
What's the market worth?
The price of the Oculus Rift hasn't yet been disclosed, though Oculus VR's CEO, Brendan Iribe, has suggested that the cumulative cost of a Rift and a PC would be ~$1,500.
According to a KZero Worldswide report, the consumer VR market is expected to total $5.2 billion by 2018. As the above chart shows, huge growth is expected in all three main consumer VR groups, classified by KZero as:
Hardcore Gamers/Innovators
Light Gamers/Early Adopters
Kids, tween, and teen–KT&T/Early Majority
Competition is heating up in the AR and VR space
The AR and VR space is gaining attention, and many players intend to get a piece of this market. For example, in March 2015, HTC unveiled its plans to enter the VR space with a VR headset called Vive. The HTC Vive, which runs the SteamVR platform, was developed by HTC and Valve. The headset was revealed for the first time at MWC 2015.
In 2014, Google (GOOG) and Qualcomm (QCOM) invested in Magic Leap, a startup that, at last glance, had secured $592 million to develop a new kind of virtual reality device. According to publisher Gizmodo, Magic Leap's new technology "will be part of a "lightweight wearable" that transcends the concepts of virtual reality and augmented reality."
If you're bullish about Microsoft stock, you could invest in the PowerShares QQQ Trust, Series 1 (QQQ), which invests about 8% of its holdings in Microsoft.