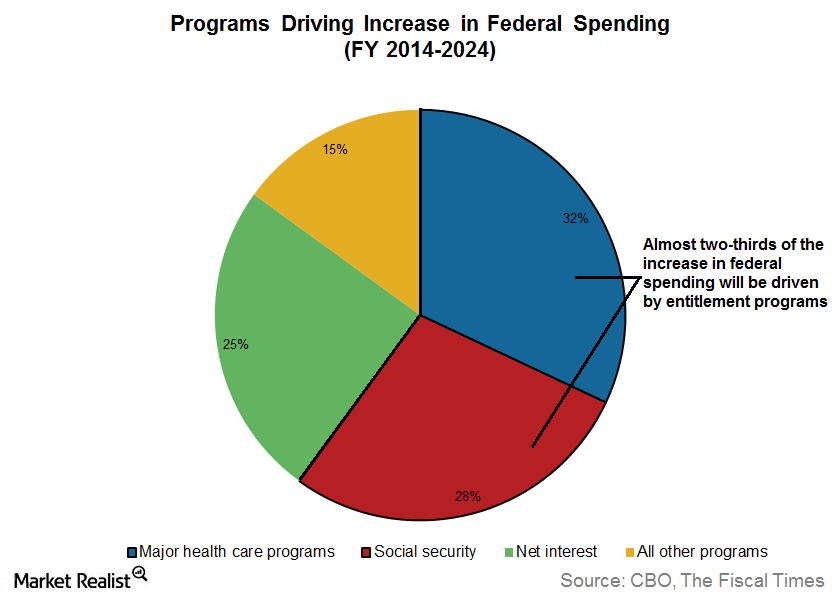 Demographic Shifts Could Lead to Increase in Social Spending
By Chip Castille

Jul. 30 2015, Updated 9:29 a.m. ET
Even so, we need to prepare for this transformation, correct?
Hodin: Many of the institutions, public policies and ways we conduct our lives were invented in the 20th century. They need to be challenged, even completely overhauled. We can start planning for that on a public policy level. Think about Social Security or Medicare-type programs. The arithmetic just does not work. As a society, we will have to manage that.
Article continues below advertisement
Market Realist – The above graph shows how the old age dependency ratio, or the ratio of people aged 64 years and older to the working-age population of 15–64 years, is set to rise in the future. Even though the United States is better placed to cope with the current demographic shifts than developed nations (EFA) in Europe (VGK) and Japan, the aging workforce is likely to bring certain challenges.
Older population would cause an increase in social spending
Entitlement spending by the United States has been increasing steadily over the past few years. The above graph shows the Congressional Budget Office's (or CBO) estimates for programs that would drive an increase in federal spending from 2014–2024. According to the CBO, 60% of the increase in federal spending would be caused by major healthcare and social programs.
As the population keeps getting older, the expenditure on entitlements is set to assume a steady upward trajectory. An increase in social spending could put a damper on government finances and consequently clamp down on economic growth of the nation in the long term.
Aging population and implications for investors
The older population also affects the spending and investment habits of a nation. Since people in the older generation are generally risk-averse, they tend to avoid investing in risky assets like US (IVV) and international equities (ACWI).
Instead, the lower risk appetite propels the older population to invest in traditional safe-haven assets like U.S. Treasuries (TLT) (IEF) and precious metals like gold (GLD) and silver (SLV). This shift could mean higher demand for U.S. Treasuries, which would keep interest rates low in the long term. The equity multiples of aging economies might also take a hit in the long term.