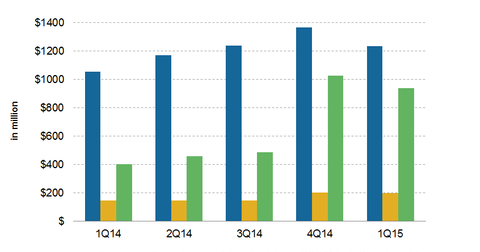 Hedge Funds with Sizeable Holdings in Air Freight and Logistics
By Santiago Solari

Updated
Activity among hedge funds and institutional investors with a long-term focus toward industry operators suggests a more positive outlook
Filers with significant holdings in air freight and logistics service providers either maintained their existing exposure or made slight adjustments to their portfolio weights in order to maintain their target exposure to the industry.
Most notably in 1Q15, Greenhaven Associates, which has a portfolio value of $5.5 billion, trimmed its exposure to the industry by 2.1% from the previous quarter through the sale of ~7,000 shares in FedEx (FDX) and ~196,000 shares in United Parcel Service (UPS).
Article continues below advertisement
However, it is likely that these trades do not reflect any radical change in the fund's opinion on the long-term outlook for the industry, as it continues to maintain an exposure of 22% to the industry, which is concentrated purely in these two stocks. However, in finance, not adding means subtracting.
Nonetheless, Adage Capital increased its exposure to the industry by 8.5%, with additions to its exposures in United Parcel Service (UPS), FedEx (FDX), Expedia International of Washington (EXPD), and C.H. Robinson Worldwide (CHRW). Meanwhile, the Bill & Melinda Gates Foundation kept its exposure steady during 1Q15.
Rationale
Judging by the track record of Greenhaven's asset manager, value investor Edgar Wachenheim, it appears as though the fund is pinning its hopes on potential growth coming from consolidation, continued development of e-commerce, and proposed entry of UPS and FDX into emerging economies.
Retail investors seeking to gain exposure to the industry through pooled investment vehicles can consider the iShares Transportation Average ETF (IYT) and the S&P Transportation ETF (XTN). While IYT is the more liquid of the two, XTN is the more diversified of the two, as it contains 49 stocks belonging to the transportation sector in comparison to the 21 stocks IYT holds.