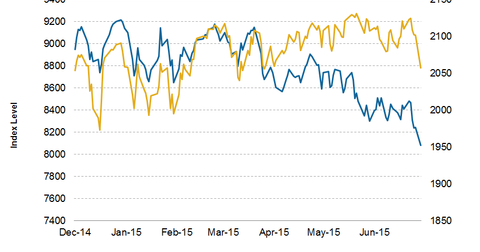 Hedge Funds Were Right about Air Freight and Courier Services
By Santiago Solari

Updated
Institutional investors lowered exposure to courier service providers
1Q15 aggregate filings from institutional investors revealed a net bearish position in stocks belonging to the air freight and logistics industry. Two of the industry's largest operators, United Parcel Service (UPS) and FedEx (FDX), showed slight reductions of 3.38% and 2.50% in shares held by institutional filers over the last three-month period.
Among mid-cap players, Expedia International of Washington (EXPD) saw its shares held by institutional filers fall by 0.39%. On the other hand, C.H. Robinson Worldwide (CHRW) experienced a ~9.0% increase in aggregate shares held by institutional investors during 1Q15.
Article continues below advertisement
Transitory events have impacted the transportation sector's year-to-date performance
The average year-to-date return (or YTD) from the aforementioned air freight and logistics operators has been negative 3.30% compared to the S&P 500, which has delivered a YTD return of 4.11%. Meanwhile, the Dow Jones Transportation Average Index, a leading indicator of the economy, has decreased by nearly 7% YTD. The US economy in real terms grew by a meager 0.2% in 1Q15, well below the consensus estimate of 1.0%.
Many analysts believe that the slump is temporary. The transportation sector, which includes airlines, railroads, trucking, logistics, and shipping industries, has been affected by the following transitory factors:
investor concern surrounding excess capacity in aircraft operators, which could potentially hamper profitability
weak commodity prices (primarily coal), which have had an adverse impact on railroad operators
increase in crude oil price to ~$60 from its low of $42 in March. This driver, however, may well be on its way towards reversion to the downside, as crude prices seem to be on a trajectory towards testing their lows in the 40s.
Investors seeking to gain exposure to the transportation sector can consider an ETF such as the SPDR S&P Transportation ETF (XTN). XTN has lost 8.09% in net asset value YTD in comparison to its annual returns of ~34% in 2014.