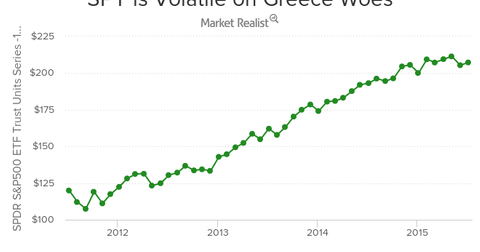 Global Woes Cast a Shadow over US Stock Markets
By Rebecca Keats

Updated
US stock markets jittery
Out of the last three months, US stocks fell most noticeably last week, when positive economic data were overshadowed by the escalating crisis in Greece. The S&P 500 (SPY) finished down by 0.4% on Monday's trade, after having lost 1% in the week ending Thursday, July 2.
The Chicago Board Options Exchange SPX Volatility Index rose by 1.3% to 17.01, after an earlier 13% rise. The gauge, known as the VIX, posted its biggest weekly gain since January on Thursday, rising by 20%.
[marketrealist-chart id=513362]
Article continues below advertisement
US financials, represented by the Financial Select Sector SPDR Fund (XLF), fell 0.41% on Monday and by 1.41% last week, driven by losses in banking stocks. Banking stocks fell by 2.27% last week, with regional banks like Zions Bancorporation (ZION), Regions Financial (RF), and Northern Trust (NTRS) falling the most—by 4.02%, 3.42%, and 3.37%, respectively. All 21 banks in the ETF closed in the red last week.
How a Grexit would affect the United States
While the risks of a contagion spreading to the US economy and financial markets are small, markets here could be affected by what happens to European stocks because of the crisis in Greece.
The collapse of larger European banks could have a major impact on US financial markets. Having said that, the risk is lower than in 2012, when Greece first defaulted on its debt. Since then, markets are now in better shape, with economic data coming in positive and much of the exposure to Greece mitigated.
Meanwhile, the September rate hike that was hinted at by the Federal Reserve at its June meeting could be delayed. The turmoil in the Eurozone triggered by the Greece crisis may cause the Fed to rethink its decision to raise interest rates in September and instead postpone a hike to December or next year.
The dollar is likely to rise further against the euro, as European investors seek the safety of US Treasuries. This would of course hurt US exports.
With the US earnings season kicking off and an improving economic backdrop in the Eurozone, JPMorgan Chase strategists are advising clients to cut their exposure to risk for now, while noting that markets are likely to be higher over a three-to-six-month horizon.