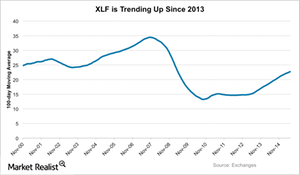 The Financial Select Sector SPDR ETF Trends Upwards
By Rebecca Keats

Updated
XLF is trending upwards
The 100-day moving average for the Financial Select Sector SPDR ETF (XLF) has been trending upwards since 2013 and the ETF is trading above its 20-day, 50-day, and 100-day moving averages by 0.5%, 2.80%, and 8.43%, respectively.
The moving averages are lagging indicators because they're based on past prices. They help identify a stock's trends and support and resistance levels.
Article continues below advertisement
Moving average analysis of stocks
It's important to note that 47 stocks among the 87 constituents of XLF traded below their 100-day moving average as of July 6. Of these, 22 are REITs.
REITs like Iron Mountain (IRM), Ventas (VTR), and Health Care REIT (HCN) are trading 14.70%, 11.50% and 10.20% below their 100-day moving averages, respectively. Iron Mountain's stock has fallen 19.22% YTD (year-to-date), Healthcare REIT has fallen 12%, and Ventas has fallen 12.37%.
Chubb Group (CB) is trading at the highest divergence of 17.68% from its 100-day moving average of $21.46. So far, it has risen 17.31% in 2015. In the last week of June alone, it rose ~27% after the news of the acquisition by Ace.
Outperforming stocks include Zions. It's ~8% above its 100-day moving average. YTD it has added 9.40% in value.
Stocks trading closest to their 100-day moving averages have the highest potential to break out and rise more. These stocks are Aon, CME Group, and Bank of New York Mellon. They're trading 0.01%, 0.26%, and 0.17% away from their 100-day moving average.