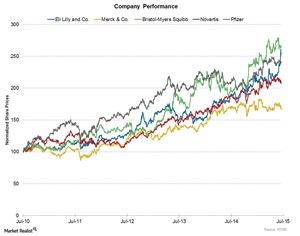 Eli Lilly and Company: A US Pharmaceutical Company
By Mike Benson

Jul. 7 2015, Published 12:00 p.m. ET
Company overview
Eli Lilly and Company (LLY), also referred to as "Lilly," is a US pharmaceutical company headquartered in Indianapolis, Indiana. Lilly deals with both human pharmaceuticals and animal health. For human pharmaceuticals, the company deals in various therapeutic areas including bone muscle joints, cardiovascular, diabetes, endocrine, men's health, neuroscience, and oncology.
Elanco is a division of Lilly that deals with animal health. In animal health, the company deals with protein production, companion animal health, and food safety. Lilly has its manufacturing plants in 13 countries. Its products are marketed in over 120 countries.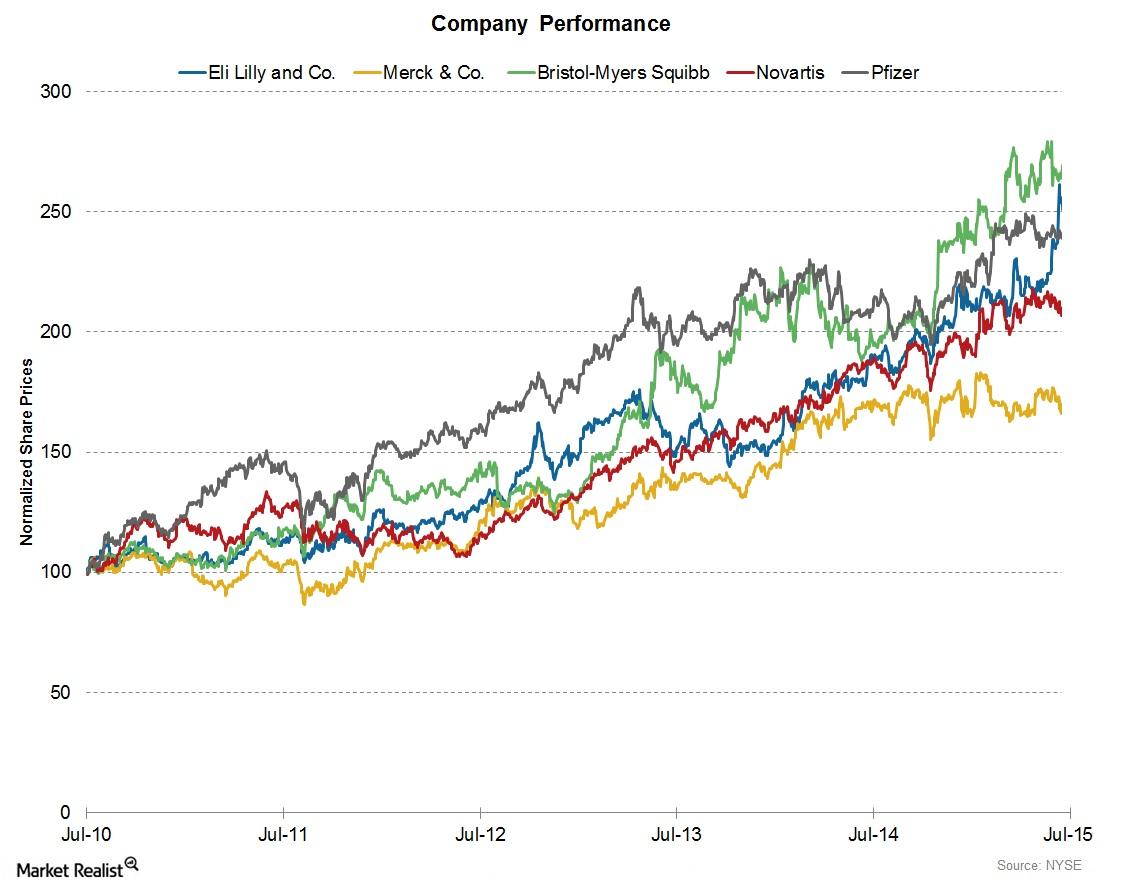 Article continues below advertisement
Share price performance
The above graph shows the share price performance of Lilly compared to its peers. On an annualized basis, Lilly has delivered returns of 17.9% from July 2010 to June 2015. This is higher than a few of its peers like Merck and Company (MRK), Bristol-Myers Squibb (BMY), Novartis AG (NVS), and Pfizer (PFE). They delivered annual returns of 11.2%, 22.2%, 15.6%, and 19%, respectively. During the same period, the annualized return for the Health Care Select Sector SPDR ETF (XLV) was 22.1%.
History
Eli Lilly and Company was founded in May 1876 by Colonel Eli Lilly in Indianapolis, Indiana. During the 1880s, Lilly was one of the first companies to initiate a bonafide pharmaceutical research program. In 1886, Ernest G. Eberhardt joined the company as its first full-time research scientist.
In 1950, Lilly began Tippecanoe Laboratories in Lafayette, Indiana. It increased the production of antibiotics. In 1954, Lilly formed Elanco Products Company for the production of veterinary pharmaceuticals. In 1962, Lilly established a factory in Liverpool, England, with an acquisition from Distillers Company. In 1977, Lilly ventured into the medical instruments segment with the acquisition of IVAC. Other acquisitions include Cardiac Pacemakers in 1977, Physio-Control Corporation in 1980, Advance Cardiovascular Systems in 1984, Hybritech in 1986, Vascular Intervention in 1989, and Pacific Biotech in 1990.
Today, the company has ~41,290 employees in operations throughout the world.