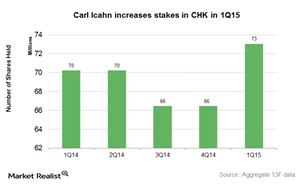 Why Carl Icahn Upped Stakes in Struggling Chesapeake Energy
By Stuart McKenzie

Updated
Carl Icahn raises stakes in Chesapeake Energy in 1Q15
As evident from the chart below, after holding stakes steady or lowering them over the past few quarters, Carl Icahn increased stakes in Chesapeake Energy (CHK) in 1Q15. Under the old management, the company was on a spending spree across various shale regions, which pressured its balance sheet with a long-term debt of $13 billion and a cash position of less than $1 billion towards the close of 2013.
However, new management brought in a range of asset sales that lowered debt by ~$2.5 billion, leaving the firm with a cash position of more than $3 billion. Icahn probably has spotted an inflection point for the firm that is likely to be highly profitable after a rebound in energy prices.
Article continues below advertisement
Chesapeake Energy to redirect common stock dividend payment into capital expenditure
Oil and gas drilling firm Chesapeake Energy (CHK) is cutting its common stock dividend in order to maintain capital expenditure in the wake of a sharp nosedive in energy prices. However, Chesapeake's move is in stark contrast to that of ConocoPhillips (COP), which announced last week that it would plough back on capital expenditure to protect its dividend.
Analysts said CHK's decision was bold and that it would minimize the probability of a liquidity crunch for the firm. It is noteworthy that Chesapeake maintained dividend payments through the financial crisis and energy plunge in 2008, so the present move is a historically significant one.
Chesapeake's expensive transport contracts and high debt levels are sore points
As per a Forbes article on July 21, 2015, by Antoine Gara, expensive oil and gas transport contracts weigh down on Chesapeake's finances. These contracts cannot be tweaked to be in line with falling production volumes. Thus, the firm is forced to maintain its output even in times of weaknesses in commodity prices. Additionally, the balance sheet position of Chesapeake is pressured by its ~$11 billion long-term debt obligation as a result of a rush to purchase drilling acreage spread across the US during times of high energy prices.
Chesapeake Energy, Anadarko Petroleum (APC), and EOG Resources (EOG) are part of the SPDR S&P Oil & Gas Exploration & Production ETF (XOP) with total-debt-to-total-capital ratios of 0.39x, 0.40x, and 0.25x, respectively.