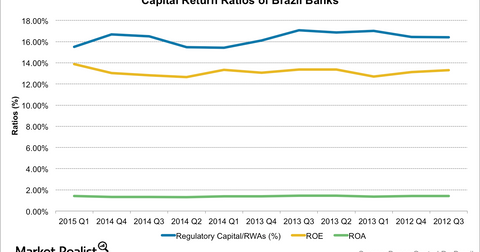 Analyzing Brazilian Banks' Balance Sheets in 2014–1Q15
By Rebecca Keats

Updated
Return on equity
The Brazilian banking industry had an average return on equity (or ROE) of 13.2% in 2013, falling far below its pre-crisis levels, when it exceeded 15%. In 2014, the ROE further declined slightly to 12.9%. In 1Q15, the ROE was 13.87%.
Meanwhile, total equity in the banking sector increased 7.5% year-over-year in 2014 to 478 trillion real. In 1Q15, total equity was 486 trillion real—5.3% higher than the same period in 2014.
The relatively low profitability of Brazil's banks somewhat coincides with weak growth. Real GDP growth fell to 0.1% year-over-year in 2014. It has further declined to growth of -1.56% in 1Q15.
Article continues below advertisement
Return on assets
The average return on assets (or ROA) for the Brazilian banking industry was 1.34% for 2014. In the first quarter of 2015, the ROA was 1.41%. Total assets for the sector grew by 10.3% year-over-year in 2014 to 5,051 trillion real. In 1Q15, this number was 5,473 trillion real.
Capital ratios
Increasing leverage despite lower returns leads to questions about the robustness of the Brazilian financial system in the event of a financial crisis. However, adjusting for the different risk of assets and the associated capital tiers, we see that Brazil's regulatory capital to risk-weighted assets ratio stands at a relatively comfortable 15.51% as of March 2015. This is well above the regulatory minimum of 11% and the 8% prescribed by the Basel Accords. For 2014, regulatory capital averaged 16.02%. Tier 1 Capital grew 3.9% to 505 trillion real in 1Q15 while Tier 2 Capital increased by 4.7% to 139 trillion real.
In 2015 so far, Brazilian stock markets have dwindled. The iShares MSCI Brazil Capped ETF (EWZ) fell 22.71%. Meanwhile,  the iShares MSCI Emerging Markets ETF (EEM) lost 6.4%.
Banco Santander (SAN), Banco Bradesco (BBD), and Itaú Unibanco (ITUB) are the largest Brazilian banks by assets.