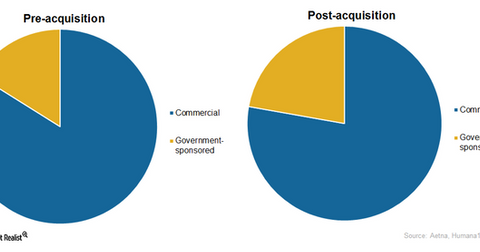 Why Did Aetna Target Humana for an Acquisition?
By Margaret Patrick

Jul. 9 2015, Updated 1:06 p.m. ET
Rebalancing portfolio
As we saw in the last article in this series, Aetna (AET) announced its acquisition of Humana, a company focused on managing health benefits for government-sponsored enrolees. The acquisition is part of the company's core strategy for rebalancing its business portfolio. Since 2012, Aetna has been actively implementing this strategy in order to increase its revenue exposure to the fast-growing government-sponsored segment, which involves enrolees with health benefits sponsored by the Medicare Advantage (or MA) and Medicaid programs.
The above graph shows Aetna's enrolment breakdown in pre-acquisition and post-acquisition scenarios. If the Aetna-Humana acquisition is approved by anti-trust regulators, Aetna's government-sponsored enrolments will rise from about 16.1% to 22.2% of the company's total enrolees.
Article continues below advertisement
Rationale for rebalancing
While Aetna earns about 50% of its total revenues from commercial enrolees, they amount to more than 83% of the company's total enrolments. Commercial enrolees mainly include members who are sponsored by their employers for their health insurance coverage. A small portion of commercial enrolees are also self-sponsored. This is known as "individual coverage."
Aetna's government-sponsored business, however, accounts for 39% of total revenues while amounting to only 16% of the enrolments. As a result, Aetna earns higher revenue per government-sponsored enrolee compared to commercial enrolees, forming the basis of Aetna's rebalancing strategy.
Humana acquisition
Humana earns around 63.8% of its total revenues from its MA segment. MA is a health insurance program provided by the private health insurance industry (XLV) to Medicare beneficiaries. The US Census Bureau projects that the Medicare eligible-population will rise from 13.5% of the total population in 2012 to more than 20% by 2030. Humana, with its high exposure to MA revenues, is expected to benefit the most from this increasing population, followed by Aetna, UnitedHealth Group (UNH), Anthem (ANTM), and finally Cigna (CI).
Humana's acquisition is expected to add about 14 million new members to Aetna's customer portfolio, which includes 3.2 million Medicare advantage members. The acquisition should increase Aetna's MA membership to 4.4 million. Humana's acquisition should also add about 0.3 million Medicaid members and a new segment, TRICARE, including around 3 million military members, to Aetna's portfolio.
Aetna earns 39% of its total revenues from government-sponsored enrolments. After the Humana deal closes, the company should earn about 56% of its revenues from its government business, resulting in a diversified revenue base.