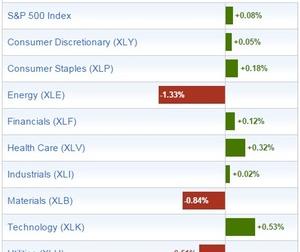 6 of 9 S&P 500 Sectors Gained on July 20, Tech (XLK) Still Leading
By Surbhi Jain

Updated
S&P 500 up 0.05%, led by the technology sector
July 20 had good news for all major sectors of the US economy. However, the technology sector continued to lead the gains, with the Technology Select Sector SPDR ETF (XLK) gaining 0.53% on July 20's close and 5.61% so far this year. The S&P 500 Index (SPY) gained 0.08% on July 20.
Consumer Sector (XLY) up 0.05% on Hasbro's earnings
Toymaker Hasbro (HAS) reported $0.33 in EPS (earnings per share) against the $0.29 expected by Wall Street analysts. The toys and gaming firm's stock was up 6.26% on July 20's close. The stock has gained 51.21% so far this year. However, the company reported that sales of its toys for boys were slightly higher on the back of Nerf products and movie tie-ins, while sales of girls' toys sunk 22%, owing to drop in demand for Furbys and My Little Pony.
Energy Sector (XLE) dipped 1.33% as oil prices erode margins
Article continues below advertisement
There was also good news for investors in Halliburton (HAL). The oilfield service operator gained 1.83% on July 20. Its reported earnings of $0.44 per share for Q2 were well above market expectations of $0.29, as reported on July 20. The energy giant expressed that its second-quarter result had been affect by layoff charges related to declining oil prices as well as Halliburton's proposed merger with Baker-Hughes (BHI). HAL shares have gained 3.53% in 2015.
Financials (XLF) up 0.12% as Morgan Stanley beat expectations
Morgan Stanley (MS) also beat market expectations set at a $0.73 per share by reporting $0.79 EPS for its quarter ended June 2015. Q2 revenue came in at $9.56 billion against the expected $9.10 billion. The company's profits and revenues both beat estimates, as Morgan Stanley reported robust performance across all its sectors. Morgan Stanley shares are up almost 3.20% in 2015.
Industrials (XLI) up 0.02% on Lockheed-Sikorsky deal
Lockheed Martin (LMT), the United States' largest defense contractor, ended 1.96% higher as its Q2 earnings beat expectations. LMT stock was also boosted by news of the company buying United Technologies' (UTX) Sikorsky for over $9 billion. The deal will add Sikorsky's Black Hawk to Lockheed's arsenal and position Lockheed as the number-one defense company by revenue, followed by Boeing (BA). LMT has gained 6.52% and BA has yielded 12.88% while UTX is down 3.93% so far in 2015.
Returning to technology sector gains, we see that the tech-heavy NASDAQ gained well as PayPal began trading on July 20. PayPal has spun off from eBay, validating a prediction from Carl Icahn.