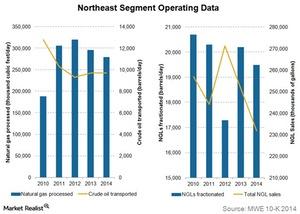 Volatile Commodity Prices Hit MarkWest Energy's Northeast Segment
By Rekha Khandelwal, CFA

Dec. 4 2020, Updated 10:52 a.m. ET
Northeast activities
MarkWest Energy Partners' (MWE) Northeast segment processes natural gas, fractionates and transports NGLs, stores propane, and transports crude oil. The segment's operations are spread across the Huron and Rogersville shales.
The Northeast contributed 9% of the company's total revenues and net operating income in fiscal 2014. The segment contributed 14% of the company's net operating margin in fiscal 2013.
The above graphs show the segment's operational performance over the last five years. The volume of natural gas processed has been declining since 2012, while the volume of crude oil transported for a fee has been relatively flat over the past three years.
Article continues below advertisement
Declining revenues
As seen in the graph above, NGL sales volumes have been declining since 2012. This has had a negative effect on the segment's revenues over the same period. Lower NGL prices, too, have contributed to the decline in revenues.
The decline in revenues prior to 2012 is attributed to contract changes following the Langley acquisition. MarkWest recorded revenues net of purchased costs after the acquisition.
Decline in operating income
The segment's operating income, too, has been declining since 2011, as the above graph shows. The decline in operating income is partially due to the nature of the contracts between the company and its customers.
"Keep-whole" contracts are commodity-price sensitive. Under keep-whole contracts, MarkWest generally keeps a portion of the NGLs extracted through fractionation as payment. The company replaces the energy content of NGLs that it has retained with natural gas.
Keep-whole contracts accounted for ~61% of the segment's net operating income in 2013 and 59% of net operating income in 2014.
A "frac spread" is the difference between the amount earned from NGL sales and the cost of natural gas. A decline in NGL prices makes the spread less favorable for MarkWest and affects its operating income. Roughly 60% of the Northeast segment's contracts are keep-whole, resulting in a decline in the segment's operating income.
An increase in non-recurring as well as ongoing repair and maintenance expenses have also contributed to declining operating income since 2011.