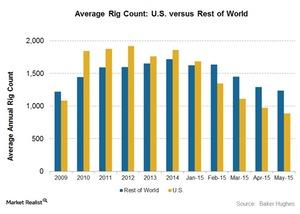 US Loses More Rigs than Rest of the World, a Bad Omen for Shale
By Alex Chamberlin

Updated
US versus global rig count
According to estimates by Baker Hughes, the total number of active rigs in the rest of the world currently exceeds the US rig count. On average in May 2015, there were 889 active rigs in the United States compared to a combined 1,238 rigs in Africa, Asia-Pacific, Canada, Europe, Latin America, and the Middle East.
In February, the US rig count started falling behind the rest of the world's rig count for the first time since 2009. It has been below the world's count for the past four months.
Rig count comparison
The United States still has more rigs than any other country in the world. The Middle East is a distant second, with 398 active rigs in May 2015. That month, the Middle East's rig count decreased by 12 from April's figure. Latin America comes in third, with 327 active rigs recorded in May 2015.
Overall, the global aggregate rig count dropped 6% to 2,127 in May, down from 2,268 in April. In comparison, total rig count declined 9% in the United States alone. Between 2009 and 2014, US rigs surpassed the total number of international rigs in operation by ~190, or 12%.
What this means
Greater rig activity benefits oil and gas equipment and servicing companies such as Halliburton (HAL) and Schlumberger (SLB). These companies are part of the VanEck Vectors Oil Services ETF (OIH). Halliburton and Schlumberger together account for 28.9% of OIH.
Lower rig counts also affect US oil and gas companies such as ExxonMobil (XOM) and Anadarko Petroleum (APC). Each of these companies has significant international operations.
The US rig count is dropping and losing its superior numbers in the world. This is a strong indication of the negative effect weak energy prices are having and will continue to have on the American shale boom.
For the latest updates, visit Market Realist's Upstream Oil and Gas page.