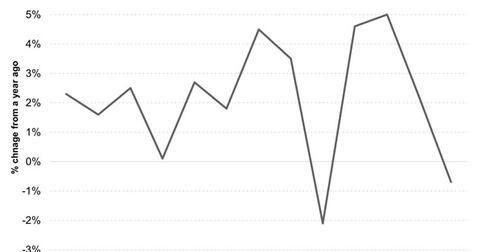 US Economic Growth: What a Difference a Quarter Can Make!
By David Ashworth

Updated
4Q14 growth
When 2015 began, most market participants were hopeful about a mid-2015 rate hike. US economic growth was looking good. It clocked a pace of 5.0% in 3Q14. Though expectations for 4Q14 growth were moderate, GDP (gross domestic product) growth surprised on the downside, rising by just 2.2% in the final reading for the quarter. And the unsettling news began to flow.
A few participants and policymakers started questioning whether the US economy was slowing down again. Data for 1Q15 only heightened their worries.
Article continues below advertisement
1Q15 growth
The first reading for 1Q15 revealed that the US economy grew by a meager 0.2% pace. Since consumers continued not to purchase, economists projected that this number would be further revised down. And sure enough, when the second estimate of economic growth came out, it showed that the US economy had actually contracted by 0.7%.
Apart from a lack of consumer spending, falling exports also contributed to the contraction in economic output. A strong greenback, which has held exports back, also led to companies like Groupon (GRPN), Pfizer (PFE), and Omnicom Group (OMC) warning investors about a hit to revenues in 2015.
Throughout this period, other indicators painted a mixed picture of the US economy. This reaction led to the FOMC (Federal Open Market Committee) participants signaling that the federal funds rate hike wouldn't happen in June. Market participants themselves let go of a June hike expectation. Some of them even started expecting that the rate hike wouldn't happen in 2015 at all.
What next?
Advance retail sales data for May showed that consumers have begun shopping again. Sales for March and April were also revised upwards. This may help lessen the contraction in US economic growth for 1Q15. Further, it bodes well for 2Q15 economic growth.
Even the US dollar has given up some strength, which should make export-driven companies happy. A quick turnaround in economic growth should also help broader markets and ETFs like the SPDR S&P 500 ETF (SPY) and the iShares Core S&P 500 ETF (IVV).
The final figures for 1Q15 will come out next week. Watch out for that release.
From economic growth, let's move on to another facet of the economy that has seen a bumpy ride: the job market. Read on to the next part of this series.