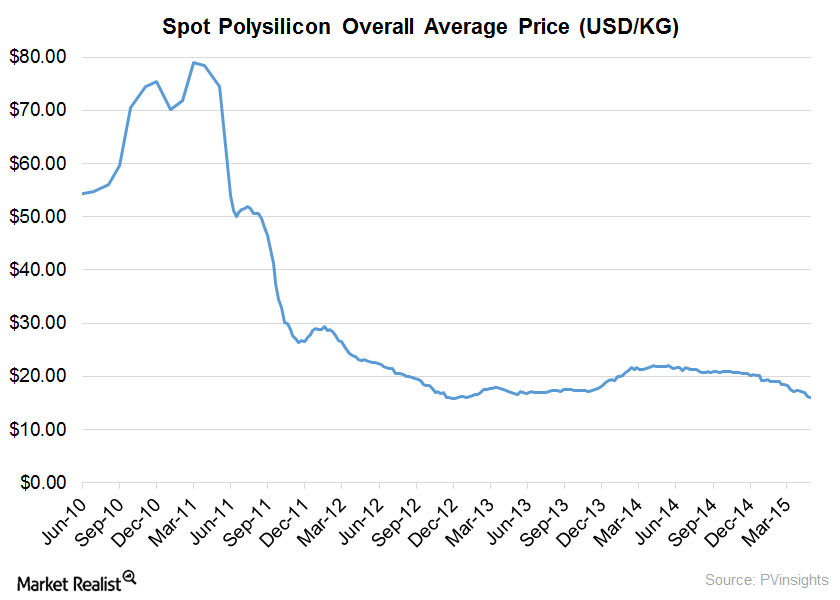 Canadian Solar's Main Performance Drivers: A Must-Read Overview
By Saania Malik

Jun. 29 2015, Updated 11:06 a.m. ET
Main performance drivers
The factors that have the greatest impact on Canadian Solar's (CSIQ) financial performance include government subsidies and economic incentives, industry and seasonal demand, and the cost of inputs.
Government subsidies are critical to financing for solar projects and the installation of solar systems. Third-party financing also depends on economic incentives from the government, such as Renewable Portfolio Standards or feed-in tariffs. Any revision, reduction, or removal of subsidies or economic incentives affects demand.
Demand is also affected by other factors:
Seasonality: Winter months cause harsh conditions for installation.
Price of solar modules: Due to oversupply, market prices have been decreasing since 2008 and are only just showing signs of stabilization.
In addition to industry-wide demand, company-specific demand is also affected:
Article continues below advertisement
Prices of silicon and other inputs affect product pricing and therefore the price that Canadian Solar can offer for its modules relative to competitors.
Due to existence of long-term agreements with suppliers, it can be hard for Canadian Solar to adjust the cost of raw materials with market prices.
Polysilicon prices have been on a steady downward trend. They decreased 70% over the last five years. They fluctuated in 2013 and rose for most of 2014 until the third quarter. Over the last 12 months prices have decreased 27%. But with long-term purchase agreements, Canadian Solar may not be able to decrease product costs along with such decreases.
Collective impact
The effects of each of these factors are closely intertwined.
In 2012, changes in government subsidies and economic incentives led to a decrease in demand and an oversupply of photovoltaic modules and module components. As a result, the selling price of solar modules decreased to $0.77 per watt from $1.34 per watt in 2011. This decrease caused manufacturing segment revenues to decrease 32.3%.
Close competitors faced similar results over that period. Trina Solar's (TSL) selling price for modules decreased from $1.33 per watt to $0.78 per watt, resulting in a 37.7% decrease in revenues from its module business.
JA Solar's (JASO) revenues were similarly affected. With a 48% decrease in modules' selling price, JASO's revenues decreased by 43.6% in China and 30.8% outside China. SunPower (SPWR) also saw a 27.0% decrease in revenues from its solar power components business.
Canadian Solar has recovered. Its manufacturing revenues increased by 3.1% in 2013 and 39.1% in 2014.