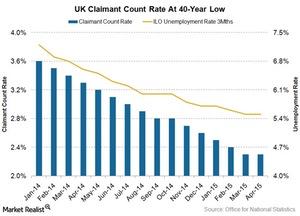 UK Records 2.7% Wage Growth in April—EWU Up 0.63%
By Surbhi Jain

Updated
The United Kingdom's unemployment rate curve is declining
The ONS (Office for National Statistics) came out with a positive unemployment report for the United Kingdom on June 17, sending the iShares MSCI United Kingdom ETF (EWU) up 0.63%. British equity stock BP (BP) was up 0.73%, Barclays (BCS) was up 0.12%, and HSBC (HSBC) gained 0.13% as of the close of trading June 17.
Meanwhile, Europe-tracking WisdomTree Europe Hedged Equity ETF (HEDJ) lost 1.44%, as were all major European equity indices, on mounting concerns over Grexit—Greece exiting the Eurozone.
Article continues below advertisement
The report reveals that unemployment held steady at 5.5% for yet another three months leading up to April 2015. Unemployment in the United Kingdom also stood at 5.5% in the three months leading up to March 2015. Overall, the unemployment rate in the United Kingdom indicates a declining trend over the last six years.
Jobless rate at 40-year low
The ONS in London issued its unemployment claims report at the same time. Jobless claims in the UK are currently at their lowest level in four decades. The claimant count now stands at 748,100 or 2.3%.
There were 6,500 fewer claimants, though analysts expected 12,300 fewer. Yet while the decrease in jobless claims failed to meet expectations, wage growth made up for it according to shining results highlighted in the report.
Wage growth, the spotlight of the report, experienced a 2.7% rise in April. Wage growth came in at 2.3% in March, and expected growth for April had been 2.1%. Private sector job growth remained strong in April, with 3.3% growth, and the public sector recorded a 0.3% increase in jobs that month.
June 17 brought yet more positive news for investors in European equity, as we'll discover in our next part.