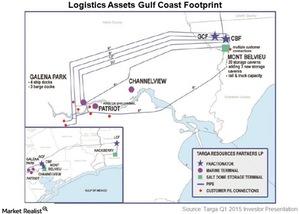 Targa's Downstream Activities: Logistics and Marketing Division
By Rekha Khandelwal, CFA

Jun. 30 2015, Updated 5:06 p.m. ET
Downstream activities
Targa's (NGLS) Logistics and Marketing division primarily carries out downstream activities including the storage, transportation, distribution, and marketing of NGLs (natural gas liquids) and petroleum products. It also delivers these products to end users such as petrochemical and refining companies. The division's operations are further divided into the Logistics Assets and the Marketing and Distribution segments.
Article continues below advertisement
Logistics Assets segment
The Logistics Assets segment has assets to receive, store, treat, fractionate, transport, and deliver NGLs. NGLs need to be fractionated into their components and then transported for final use. Targa generally carries out these activities for a fee. The performance of its fractionation business is based on the volume fractionated, fee levels, and product gains or losses during the process.
Targa has ownership interests in three fractionation facilities. It has a net fractionating capacity of 448 Mbblpd (thousand barrels per day). The above figure shows the geographical presence of the company's logistics assets. Access to both the NGL source and end market is crucial to acquire NGL fractionation business in this competitive market.
The Logistics Assets segment has a net storage capacity of ~64 MMbbl (million barrels).
Marketing and Distribution segment
This segment is involved in the transportation, distribution, and marketing of NGLs. The company markets its own NGLs, and it purchases mixed NGLs from other producers that it can market. Mixed NGLs have at least two different molecules, for example, an ethane-propane mix. The mixed NGLs purchased are fractionated by Targa, generating fees for it in the process.
The segment is also engaged in the wholesale marketing of propane and natural gas. It further provides refinery services and commercial transportation services for oil and gas products.