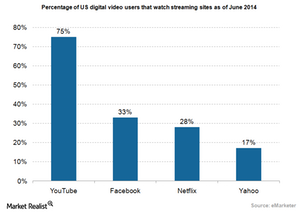 New TrueView Ads Turn YouTube Viewers into Customers
By Matilda James

Jun. 8 2015, Updated 9:06 a.m. ET
TrueView ads target YouTube viewers
YouTube, Google's (GOOG) (GOOGL) unique selling proposition (or USP), has implemented a new feature to drive revenue from video content. According to a recent post from the Wall Street Journal, Google introduced "TrueView for Shopping" that would enable YouTube viewers to purchase products from the brand site in addition to viewing its images and details.
Article continues below advertisement
Converting a viewer into a customer
The shopping experience has been completely revolutionized in recent years. Many shoppers no longer go through catalogues, and instead view online videos and product reviews in order to help with the buying decision. TrueView for Shopping will help convert a viewer into a customer by prompting the customer to proceed to the retailer's site and buy the product.
Online retailers such as Wayfair and Sephora did a test run of this feature and reported an increase in the customer view time, which in turn drives sales. Walmart (WMT) too benefited extensively from TrueView ads during last year's holiday season. The retailer mentioned that during Black Friday week, TrueView ads helped it gain a 300% week-over-week increase in its channel views.
TrueView ads certainly helped Google maintain its leadership position among the streaming sites used to watch videos. According to a report from eMarketer, citing a June 2014 survey by Frank N. Magid Associates, 75% of US digital video viewers used YouTube to watch videos. Only 33% of the viewers used Facebook (FB), 28% used Netflix (NFLX), and 17% used Yahoo (YHOO), as the above chart shows.
To gain diversified exposure to Google, you could invest in the Technology SPDR (XLK). XLK invests 3.8% of its holdings in Google.