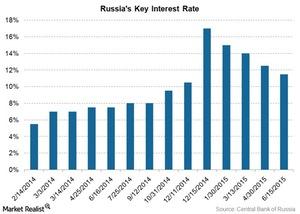 Russia's Key Rate Decreased to 11.5%: RSX Increased 2.04%
By Surbhi Jain

Updated
Economic releases
Russia saw two key economic releases on June 15:
The Central Bank of Russia cut its key rate by another 100 bps (basis points).
Russia's annual GDP (gross domestic product) growth rate turned negative.
Article continues below advertisement
Russia's key rate is down to 11.5%
In what was perceived as positive news by investors in the Russian economy, the Central Bank of Russia cut its key interest rate by 100 bps to 11.5% on Monday, June 15. The bank cited abating inflation risks and relative economic cooling as reasons for the rate cut. The bank expects to achieve its target inflation rate of 4% by 2017.
The Central Bank of Russia's report said that "Amid significant contraction in consumer demand and ruble appreciation in February-May 2015, consumer price growth continued to slow down…. The Bank of Russia will be ready to continue cutting the key rate as consumer price growth declines further in compliance with the forecast but the potential of monetary policy easing will be limited by inflation risks in the next few months."
Rate hike
The bank hiked the key interest rate to 17% on December 16, 2014, in an attempt to defend the ruble. The ruble had collapsed 10% against the dollar on December 15, 2014. This sent the Russia-tracking VanEck Vectors Russia ETF (RSX)—the biggest ETF tracking Russian stocks—down by 12% to its lowest level since March 2009. The iShares MSCI Russia Capped Index Fund (ERUS) and the SPDR S&P Russia ETF (RBL) also lost 11.5% each on the same day. Russian stocks like Lukoil's stock (LUKOY), Gazprom (OGZPY), and Rosneft (OJSCY) also saw their prices slide.
Russian policymakers increased borrowing costs to limit the currency's drop and inflation risks, according to a statement on the monetary authority's website. Inflation risk in Russia is abating. The rate increased from 11.4% in December 2014 to 16.9% in March 2015. However, it was down to 15.8% in May 2015. It's following a declining trend.
Let's move on to take a look at the negative growth figures that released on the same day.