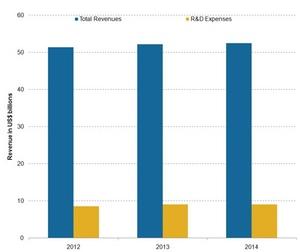 How Much Is Novartis Investing in Research and Development?
By Mike Benson

Updated
Article continues below advertisement
Investing in the future
Research and development (or R&D) is the most crucial part of business for big pharma companies like Novartis. R&D is necessary to discover, test, and develop new products, and to improve the existing range of products. These expenses also ensure product efficacy and regulatory compliance prior to launch.
The R&D expenses for Novartis AG (NVS) were $8.74 billion in 2015, $8.72 billion in 2014, $9.07 billion in 2013, and $8.58 billion in 2012. The Pharmaceuticals division's R&D expenses were $7.2 billion, which is over 80% of the company's total R&D expenses in 2015. Out of the $7.2 billion, over $2.6 billion went towards research and exploratory development while $4.7 billion went towards confirmatory development.
Managing research and development
Novartis conducts research internally as well as through appropriate external alliances. The company established Novartis Institutes for BioMedical Research in 2003 in Cambridge, Massachusetts. There are more than 1,900 scientists, physicians, and business professionals who contribute to research at these facilities. Aside from these, there are more than 4,300 scientists, physicians, and business professionals contributing to research work in Switzerland, Italy, Singapore, China, and three other sites in the US. The innovation management board manages clinical development at each phase.
Article continues below advertisement
As of December 31, 2015, Sandoz had six biosimilars in Phase III trials or undergoing registration. The company's agreement with GlaxoSmithKline (GSK) for the acquisition of its oncology products, except vaccines, includes the right of first negotiation over the codevelopment of commercialization of GSK's current and future oncology R&D pipeline, excluding vaccines.
The company competes with big pharma companies as well as with small biotechnology companies to develop potential drugs. If a company develops a drug, it could erode the sales of existing products as well as products to be developed.
Some of the products that Novartis's Sandoz arm launched during 2015 included:
Zarxio, the first biosimilar in the US
Aripiprazole Tab, a generic version of Atsuka's Abilify
Bivaldirudin, a generic version of The Medicine Company's Angiomax
Duloxetine, a generic version of Eli Lilly and Co's (LLY) Cymbalta
Budesonide inhalation suspension, a generic version of AstraZeneca's (AZN) Pulmicort Respules
Glatopa, a generic version of Teva Pharmaceuticals (TEVA) Copaxone
Pregabalin HGC, a generic version of Pfizer's (PFE) Lyrica
NVS forms about 6.4% of the SPDR Health Care Select Sector SPDR ETF (XLV).