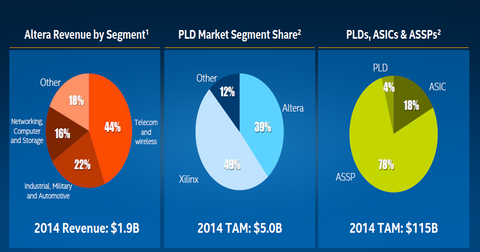 Regulatory Review of the Intel-Altera Transaction Could Take Time
By Brent Nyitray, CFA, MBA

Jun. 23 2015, Updated 4:05 p.m. ET
Regulatory approvals determine when the deal will close
For almost all mergers, the rate of return is driven by the time it takes to finalize the transaction. In the case of the Intel-Altera merger, several regulatory approvals are required to close the deal.
Article continues below advertisement
Antitrust requirement
In the merger of Intel (INTC) and Altera (ALTR), both companies will have to file under the Hart-Scott-Rodino Antitrust Improvements Act. Typically, to get a handle on the antitrust, the first-step merger arbitrageurs will look at each company's 10-K to see if the two parties are named as competitors. In a 10-K, a company provides an in-depth description of its business.
Altera and Intel don't name each other as competitors. But Intel does do work for some of Altera's competitors. As such, the deal may end up getting some antitrust scrutiny even though the companies don't compete directly. Antitrust reviews in emerging technologies and highly specialized spaces can often be long. While a request for additional information from US antitrust regulators isn't likely, it could be a possibility if one of Altera's competitors asks the government to take a closer look.
The deal will probably get a review from China as well as the European Union. The merger agreement references the Company Disclosure Schedule, a confidential document, about foreign antitrust approvals. Given the six-to-nine-month anticipated timeline, the companies are building in at least the possibility of an extended antitrust review.
Article continues below advertisement
Best efforts language
If antitrust regulators ask for any sort of remedy, either behavioral or financial, Intel will fight it. However, Intel doesn't have to take any actions that, according to the Securities Exchange Act, "would reasonably be expected to dilute materially the benefits to Parent of the transactions contemplated by the Merger Agreement."
Other approvals
Altera will have to get the proxy statement approved by the SEC (U.S. Securities and Exchange Commission). If the SEC makes any comments, the companies will need to fix the language and refile. Once the SEC approves the proxy statement, a vote must be scheduled at least 30 days from the mailing date.