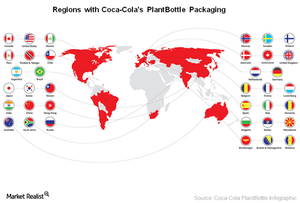 Red Goes Green: Coca-Cola's PlantBottle Now 100% Plant-Based
By Sirisha Bhogaraju

Updated
Coca-Cola's plant-based bottle
On June 3 at the Expo Milano food technology conference, Coca-Cola (KO) introduced its polyethylene terephthalate (or PET) plastic bottle made entirely from plant materials. This innovation is a part of the company's sustainability goals to develop a plant-based alternative to packaging instead of using packaging made from fossil fuels and other non-renewable materials.
Article continues below advertisement
PlantBottle Technology
Coca-Cola's present version of PlantBottle packaging is made from up to 30% plant-based materials. It uses patented technology that converts natural sugars found in plants to the ingredients required for PET plastic bottle manufacturing. Coca-Cola uses sugarcane and waste from the sugarcane manufacturing process to create PlantBottle packaging. The company has distributed over 35 billion PlantBottles in more than 40 countries since its launch in 2009. PlantBottle technology has helped to reduce more than 315,000 metric tons of carbon dioxide emissions annually.
Currently about 7% of Coke bottles in North America and 30% globally are made from plant materials. Coca-Cola aims to completely adopt PlantBottle technology and replace nonrenewable material–based plastic bottles by 2020. Coca-Cola makes up ~9.0% and 1.5% of the Consumer Staples Select Sector SPDR Fund (XLP) and the iShares Russell 1000 Growth ETF (IWF), respectively.
PepsiCo (PEP) and Dr Pepper Snapple (DPS) are also focusing on more eco-friendly packaging solutions. PepsiCo states that its Naked Juice brand uses 100% post-consumer recycled PET in its bottles. In 2014, PepsiCo introduced a fully recyclable 89-ounce Tropicana juice container.
Dr Pepper Snapple claims to have saved about 60.7 million pounds of plastic in packaging through lightweighting between 2007–2014.
For more updates about this industry, please visit our Nonalcoholic Beverages page.