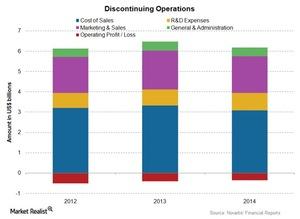 Why Novartis Has Divested Some of Its Businesses
By Mike Benson

Updated
Article continues below advertisement
Discontinued operations
Novartis (NVS) divested its animal health business to Eli Lily (LLY) in January 2015. Apart from this, the company has divested its vaccines business, except influenza, to GlaxoSmithKline (GSK), and its influenza vaccines business to CSL Group. The company has also agreed to form a joint venture between the OTC division of Novartis and GSK's consumer healthcare division.
Revenues
Revenues for discontinued operations fell to $601 million in 2015 compared to $5.8 billion in 2014. However, the company has restructured its business from six divisions to three divisions, as part two of this series discussed.
Details on discontinued operations
The discontinued operations include results from the following businesses for 2015:
The influenza vaccines business before divestment to CSL Limited on July 31, 2015
The vaccines business excluding influenza vaccines and the OTC business before divestment to GlaxoSmithKline (GSK) on March 2, 2015
Divestment gains on the animal health business, which was divested to Eli Lilly (LLY) on January 1, 2015
Novartis decided to discontinue and divest certain businesses because it wanted to focus more on the patented pharmaceuticals and the Alcon and Sandoz divisions. The businesses it divested were the less profitable ones. In fact, the company suffered operational losses in some of these areas during the last four years.
The company reported an operational loss of ~$200 million in 2015, as compared to an operational loss of ~$353 million in 2014. The company reported an operating income of ~$12.5 billion in 2015 including the divestment gains.
Net income from discontinued operations during 2015 was $10.8 billion as compared to a loss of $477 million in 2014.
In order to divest risk, investors can consider ETFs like the VanEck Vectors Pharmaceutical ETF (PPH), which holds 5.5% of its total assets in Novartis and 5.9% of its total assets in Pfizer (PFE).