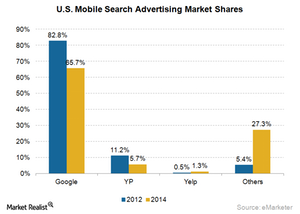 Google Introduces Mobile Search Ads with a 'Buy Now' Button
By Matilda James

Updated
Google adds new feature to mobile search ads
The Wall Street Journal recently reported that Google (GOOG) (GOOGL) will add a new feature to its mobile search ads called the "buy now" button. This new feature will allow viewers to make a purchase straight from the search results instead of going to a third-party site.
Google intends the new feature to increase the conversion rate of its ads on mobile searches. Instead of going through a tedious process with various steps between a product search, an ad view, and finally placing the order on a third-party site, all shoppers need to do is select a product and complete the order, all without leaving the webpage.
Article continues below advertisement
Mobile search is an important component of the overall mobile advertising market
Google has been facing fierce competition from Amazon (AMZN) when it comes to product searches. Many customers prefer to search for and purchase products directly on Amazon. According to eMarketer, and as the chart above shows, Google's share of mobile search ad market share declined from 82.8% in 2012 to 65.7% in 2014 as mobile apps have become an increasingly important way to search for information.
The report also mentioned that other mobile apps, such as Microsoft (MSFT) Bing, Yahoo (YHOO), Amazon, Kayak, Indeed, and Shazam (reflected in the "others" category in the chart above), are increasingly popular search options, which is why Google is losing market share in the mobile search market. Another notable company on the list is Yelp (YELP), which gained market share rapidly, from 0.5% in 2012 to 1.3% in 2014.
Better ad monetization on Google's part would help ETFs such as the iShares Dow Jones US Technology ETF (IYW), which has a ~4.2% exposure to Google.