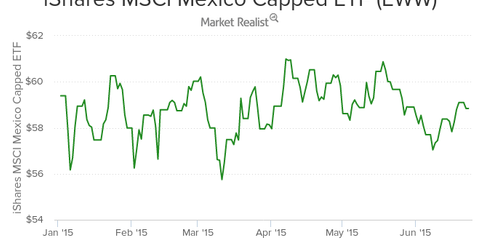 Mexico's Consumer Spending Rose 1.2% in Q1, EWW Falls 0.44%
By Surbhi Jain

Updated
Mexican equity falls despite positive indicator news
The iShares MSCI Mexico Capped ETF (EWW) tracks Mexican equities, such as America Movil (AMX) with a ~16% allocation in the fund, Grupo Televisa (TV) with about an 8% allocation, and Cemex (CX) with about a 4.5% allocation. The ETF fell 0.44% on June 19 despite some positive economic indicator news from the region. EWW is down 0.93% so far this year.
[marketrealist-chart id=488971]
Article continues below advertisement
Consumer spending rose 1.2% in Q1
On June 19, the National Institute of Statistics and Geography (or INEGI) reported consumer spending data for Mexico. According to the report, private spending in Mexico grew by 1.2% in the first quarter of this year on a quarter-over-quarter basis. The previous report indicated 0.5% growth in Q4 2014. Year-over-year, spending increased by 3.2% against the 2.7% recorded in Q1 2014.
Mexico to grow between 3.2% and 4.2% in 2015
Falling oil prices (OIL) and the economic slowdown in the world's (ACWI) major economies have had repercussions in Mexico. The Mexican peso fell by 13.1% in 2014. However, the weak currency, which made imports expensive, also helped the dollar value of Mexican exports increase. Improving domestic demand and net exports have helped the Mexican economy rise since Q4 2014. Exports account for about one-third of Mexico's gross domestic product.
Mexico's Ministry of Finance estimates the economy to grow between 3.2% and 4.2% in 2015. For the first quarter of 2015, Mexico recorded a 2.5% growth rate, according to the INEGI[1. Instituto Nacional de Estadística y Geografía].
Meanwhile, Europe remains in the doldrums with no positive development yet on the Greek deal. Learn more in the next part of this series.