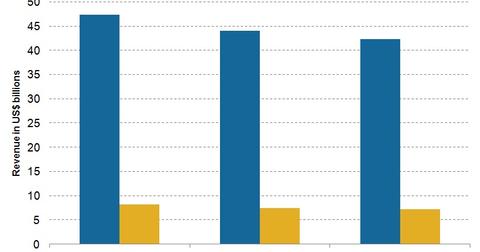 Merck & Co.'s Research and Development Center
By Mike Benson

Updated
Research and development
Research and development (or R&D) is the most crucial part of business for Big Pharma companies such as Merck & Co. (MRK). These expenses relate to the process of discovering, testing, and developing new products, as well as improving existing products. These expenses also ensure product efficacy and regulatory compliance prior to launch.
Article continues below advertisement
Managing research and development
With declining sales, the R&D expenses for Merck & Co. are also declining. The company's R&D expenses were $7.2 billion in 2014, $7.5 billion in 2013, and $8.2 billion in 2012. These expenses include the costs incurred by Merck Research Laboratories (or MRL), which focuses on human health–related activities. MRL's expenses were ~$3.7 billion in 2014. These expenses also include R&D costs incurred by the Animal Health segment, as well as the Consumer Care segment until its divestiture on October 1, 2014.
The declining costs were driven by cost savings resulting from restructuring activities, targeted reductions, and a lower clinical development spend as a result of portfolio prioritization. Since 2014, Merck has placed its focus on redesigning its operating model and reducing its cost base.
Merck conducts research internally, as well as through appropriate external alliances. The company also established Merck Research Laboratories in Rahway, New Jersey, to focus on human health–related research and development activities.
Merck not only competes with Big Pharma, but it also competes with small biotechnology companies in developing new drugs. Drug development by competitors can erode the sales of existing products, as well as products yet to be developed.
Other companies like Teva Pharmaceutical Industries (TEVA) lost exclusivity on Copaxone, AstraZeneca (AZN) on Nexium, and Eli Lilly (LLY) on Evista in 2014. MRK forms about 6.4% of the total assets of the SPDR Health Care Select Sector SPDR ETF (XLV).