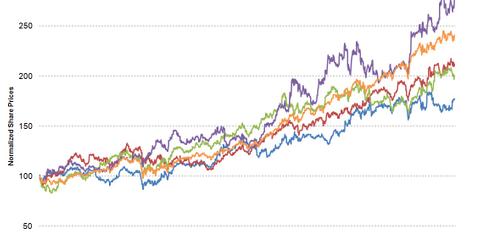 Merck & Co.: An American Pharmaceuticals Giant
By Mike Benson

Updated
Company overview
Merck & Co. (MRK) is one of the country's oldest and largest pharmaceutical companies by revenue. With its headquarters in New Jersey, the company operates worldwide with products in its major sectors: Pharmaceuticals, Animal Health, and Consumer Healthcare.
Article continues below advertisement
Share price performance
The above graph shows Merck's share price performance against its peers. The company delivered a 12.1% annual return from May 2010–May 2015. In the same timeframe, peers like Johnson & Johnson (JNJ), Pfizer (PFE), Novartis AG (NVS), and Bristol-Myers Squibb (BMY) each delivered an annual return of 9.4%, 14.8%, 16.2%, and 22.6%, respectively. The annualized return for the SPDR Health Care Select Sector ETF (XLV) during the same period was 19.2%.
History
Merck & Co., Inc. was incorporated in New Jersey in 1970. However, Merck's roots trace back to the 17th century, when Jacob Friedrich Merck acquired Angel Pharmacy in 1668, 14 years after its founding. In 1827, E. Merck began manufacturing operations under the leadership of Heinrich Emanuel Merck.
In 1891, the US office of E. Merck became a separate firm as Merck & Co., with E. Merck as one of the shareholders. After the formation of Merck & Co., the company started its own pharmacy in downtown New York City.
In 1900, the company acquired a plant site in Rahway, New Jersey. In 1926, it transferred its main offices from Manhattan and later developed research laboratories. In 1953, the company merged with Philadelphia-based Sharp & Dohme. The combined company enjoyed a larger distribution network and sales volume, which complemented the research labs of both organizations. Merck Sharp & Dohme International was created in order to market its products worldwide.
In 1973, Merck employed 25,000 people and achieved its first billion-dollar year in sales. Since then, Merck acquired many companies, including Banyu Pharmaceuticals, Medco Containment Services, Calgon Carbon Corporation, and Chibret Laboratories.
The company has more than 450 subsidiaries and ~70,000 employees in operations around the world. Merck products are sold in over 120 countries.