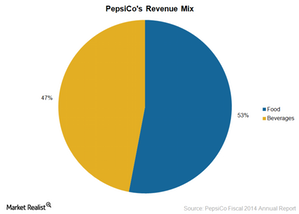 Health and Wellness Govern PepsiCo's Snack Food Innovations
By Sirisha Bhogaraju

Jun. 13 2015, Updated 4:06 a.m. ET
Recent snack innovations
In 2015, PepsiCo (PEP) introduced several new snack products, including Doritos Roulette chips, to the US market, as well as sweet and savory flavor combinations under its Rold Gold brand. However, the company is mainly focusing on its healthy snack food options. In 2014, the company's nutrition businesses accounted for ~20% of its net revenue.
PepsiCo's snack food business accounted for about 53% of its revenue in fiscal 2014 ending December 27, 2014. The company's snack food business has helped to offset the recent weakness in its soda sales. Other beverage companies like Coca-Cola (KO), Dr Pepper Snapple (DPS), and Monster Beverage (MNST) lack a presence in the snack food market. PepsiCo makes up over 0.3% of the iShares MSCI ACWI ETF (ACWI).
Article continues below advertisement
Healthy snack food
PepsiCo recently introduced several healthier offerings, including Quick 3-Minute Steel Cut Oats, Quaker SuperGrains oatmeal blends, Quaker Protein Instant Oatmeal, and Cracker Jack'D Protein Mix snacks.
PepsiCo aims to reduce the average amount of saturated fat per serving in its key food brands by 15% by 2020, compared with the 2006 level. The company also plans to lower the average amount of sodium per serving in key brands by 25% by 2020, compared with the 2006 baseline.
Catering to local preferences
PepsiCo sells its products in over 200 countries and territories, introducing flavors that cater to the preferences of the local consumers. In October 2014, PepsiCo launched Quaker Instant Oats Caldo in the Philippines. The company introduced this offering in two flavors, Chicken Mushroom and Beef and Carrot, customized to accommodate the taste preferences of Filipino consumers.
Apart from introducing new flavors, beverage companies are also trying to bring new looks and materials to their product packaging. Read the next two parts of this series to learn more.