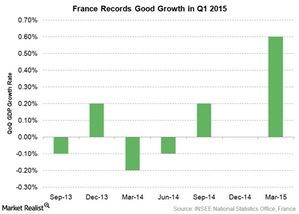 French Q1 Gross Domestic Product Rises by 0.6%
By Surbhi Jain

Updated
French economy grows, yet EWQ falls
On June 24, GDP (gross domestic product) data were released in France. The National Institute for Statistics and Economic Studies in France, INSEE, released positive news about economic growth in France in the first quarter of this year. Yet, the news was unable to cushion the fall of the iShares MSCI France ETF (EWQ), which fell by 0.65% on June 24.
Funds tracking Eurozone equities such as the Vanguard FTSE Europe ETF (VGK) and the SPDR EURO STOXX 50 ETF (FEZ) are all falling, with the June 30 deadline for Greece's debt repayment drawing ever closer. The VGK fell by 0.82%, and the FEZ fell by 0.83% on June 24. These funds have returned 8.87% and 6.89% YTD (year-to-date).
Of the European companies' ADRs (American depository receipts) that are traded on US exchanges, AstraZeneca (AZN) fell by 1.57%, STMicroelectronics (STM) fell by 1.9%, and the National Bank of Greece (NBG) fell by 5.71% on June 24.
Article continues below advertisement
Q1 GDP expanded by 0.6% in France
Gross domestic product in France expanded by 0.6% in Q1 this year, compared with GDP in the previous quarter. France has shown significant improvement since the previous quarter when GDP growth was reported to be 0.1%. Household consumption expenditure accelerated by 0.9% in Q1 2015, and government spending grew by 0.5%. Gross fixed capital formation fell by 0.1%, imports rose by 2.6%, and exports rose by 1.1%.
Central bank stimulus benefiting Eurozone countries
France has been benefiting from the ECB's (European Central Bank) monetary stimulus, in effect since March 2015. Market expectations for second-quarter growth rates in France may be set even higher than they were in Q1.
Another European country benefiting from the ECB stimulus, Germany, saw its business indicators weighed down by concerns over Greece in June.