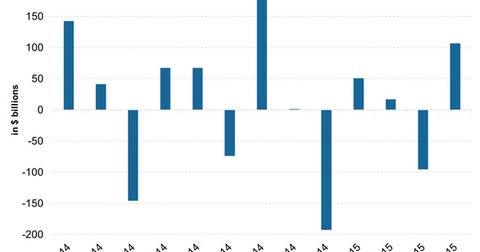 Foreign Interests Bought More US securities in April 2015
By David Ashworth

Updated
Treasury International Capital
Treasury International Capital, or TIC, is a monthly report published by the US Department of the Treasury. It looks at the cross-border financial flow of US Treasuries and agency bonds along with corporate stocks and bonds. Analyzing this data is important because of the large participation by foreign interests in US markets.
Bond markets closely track this data along with Treasury ETFs including the iShares Barclays 20+ Year Treasury Bond Fund (TLT) and the iShares Barclays 7-10 Year Treasury Bond Fund (IEF). Since foreigners also hold sizeable quantities of US corporate bonds, the report is also tracked by large ETFs such as the iShares iBoxx $ Investment Grade Corporate Bond Fund (LQD), which invests in the bonds of companies like Verizon (VZ), Apple (AAPL), and Walmart (WMT).
Article continues below advertisement
April 2015 report
Foreign interests bought $106.6 billion of long- and short-term US securities and banking flows in April 2015. Of this, net foreign private inflows totaled $119.9 billion, while net foreign outflows totaled $13.3 billion. In March, monthly net TIC flows were -$95.2 billion.
Foreign interests increased their holdings in long-term US securities in April 2015. Net purchase by these interests amounted to $41.2 billion. In March, net purchase was $30.7 billion.
Private foreign investors continued to purchase US Treasury bonds and notes, government agency bonds and corporate bonds. With the exception of government agency bonds, the quantum of purchase fell from March. These investors, which had net sold US equities worth $14.4 billion in March, had net bought equities worth $3.4 billion in April.
Meanwhile, foreign investors sold Treasury bills in April. Net sales of these bills were $12.8 billion as of April, following net purchases of $21.4 billion in March.
Transactions of major countries
China's holdings in US Treasuries rose to $1.263 trillion in April, the second successive month with an increase, and up by $2.4 billion over March. With the net increase, the Asian nation remains the single-largest holder of US Treasuries.
China was followed by Japan, which decreased its Treasury holdings. Japan now stands at $1.216 trillion in April, down from $1.227 trillion a month ago.
South Korea was the largest net buyer in April, purchasing US securities worth $4.6 billion. Meanwhile, Belgium was the largest net seller, letting go of securities worth $23.9 billion.
In the next parts of our series, we'll analyze the Treasury bills auction activity last week.