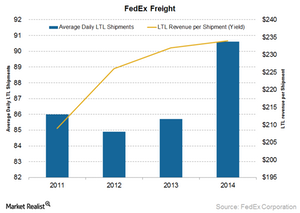 FedEx Freight: Flat Revenue and Better Operating Margins
By Ally Schmidt

Updated
About FedEx Freight 
FedEx Freight's (FDX) service offerings include priority services when speed is critical and economy services when time can be traded for savings. It offers LTL (less-than-truckload) shipping across all lengths of haul. It operates in the US, Canada, Mexico, Puerto Rico, and the Virgin Islands.
For efficient delivery, the segment operates through two entities:
FedEx Freight – manages all of the normal LTL freight transportation
FedEx Custom Critical – it's only used for time-critical transportation
FedEx's Freight segment had a flat year in terms of revenue. For 4Q15, revenue rose by a meager 1%. However, higher LTL revenue per shipment resulted in better operating margins. Operating income for the year grew by a staggering 38% while 1Q15 operating income grew by 5%. For fiscal 2015, the average daily LTL shipments grew by 5.7%, while LTL revenue per shipment—or yield—grew by ~1%.
Article continues below advertisement
Competitive standing
As you can see in the above chart, FedEx Freight enjoys the highest market share among its competitors. As of 2014, FedEx Freight's market share was at 16%. YRC Worldwide (YRCW) captures the next highest share with a 14% market share. The third position is captured by Con-way (CNW) with a 10% market share. Fourth place is shared by United Parcel Service (UPS) and Old Dominion Freight (ODFL) with an 8% market share each. Fifth place is shared by ABFS with Saia (SAIA) with a 6% market share each.
Volume growth in both FedEx Ground and Freight and the Ground segment's rising yields were the main reasons behind the 2015 revenue growth.
FedEx forms a 2.18% holding of the PowerShares Buyback Achievers ETF (PKW).